Looking to spruce up your Christmas tree with new Christmas Baubles?
For many people, decorating a Christmas tree is an important holiday tradition.
Baubles are a great way to ensure your Christmas tree reflects your personality and represents all of their favourite things. This has meant that shopping for Christmas baubles can become overwhelming and finding what your looking for can get frustrating.
If this is you, we've got you covered by putting together this list of our favourite picks including the best luxury baubles, personalised baubles and glass baubles.
Luxury Christmas Baubles – where to get them
---
Finding Christmas baubles that bring a bit of luxury and glamour can be a great way to help create a truly magical trees. We've put together a list of our top picks of the best luxury bauble sets for you to shop.
1. MCM Set of 12 Luxury Christmas Baubles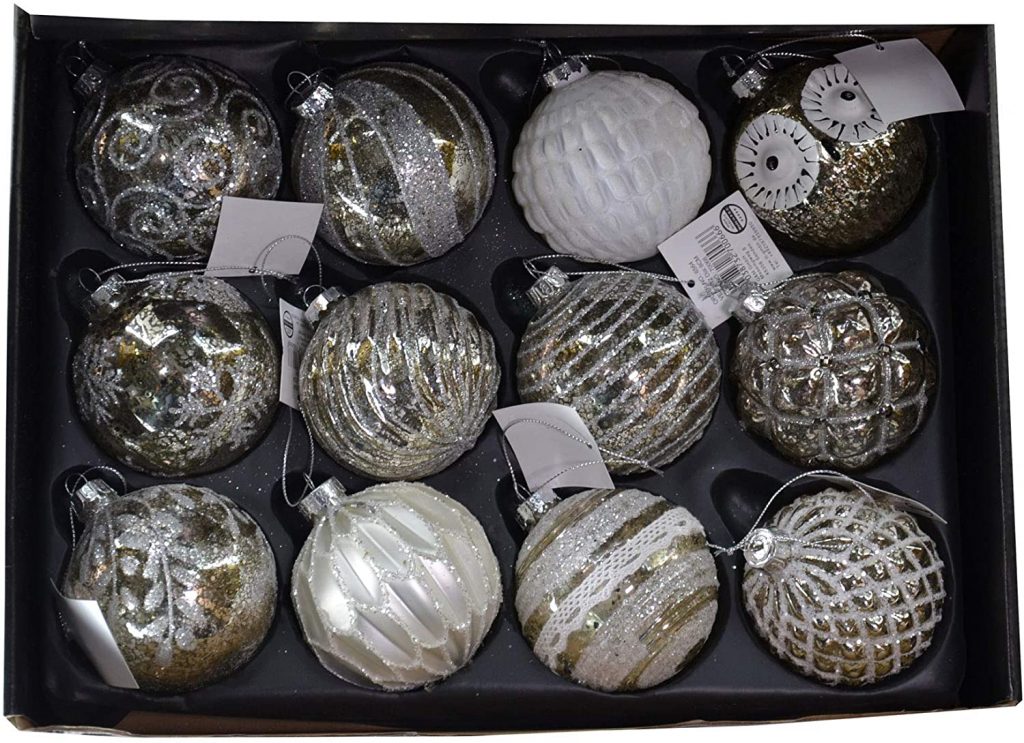 If your looking for unique luxury baubles that will look great together on your tree, these are an ideal choice. With a mix of glittery patterns and designs, these baubles will look like they've been hand selected to hang on your Christmas tree.
If silver isn't your preferred colour, this set also comes in other colours including pink, purple and teal. So be sure to check the link to see the other colour options available.
2. Christmas Concepts Glitter/Sequin Luxury Christmas Baubles Set of 12

These glitter and sequin baubles are guaranteed to bring a bit of luxury to your Christmas Tree. Each set contains 3 of each bauble design in the image above. These baubles are guaranteed to draw a lot of attention and will be a great addition to your tree. Love adding Christmas lights to your tree?
Hanging these baubles will look even more magical reflecting your Christmas lights.
3. MC Trend Luxury Glass Christmas Baubles Set of 12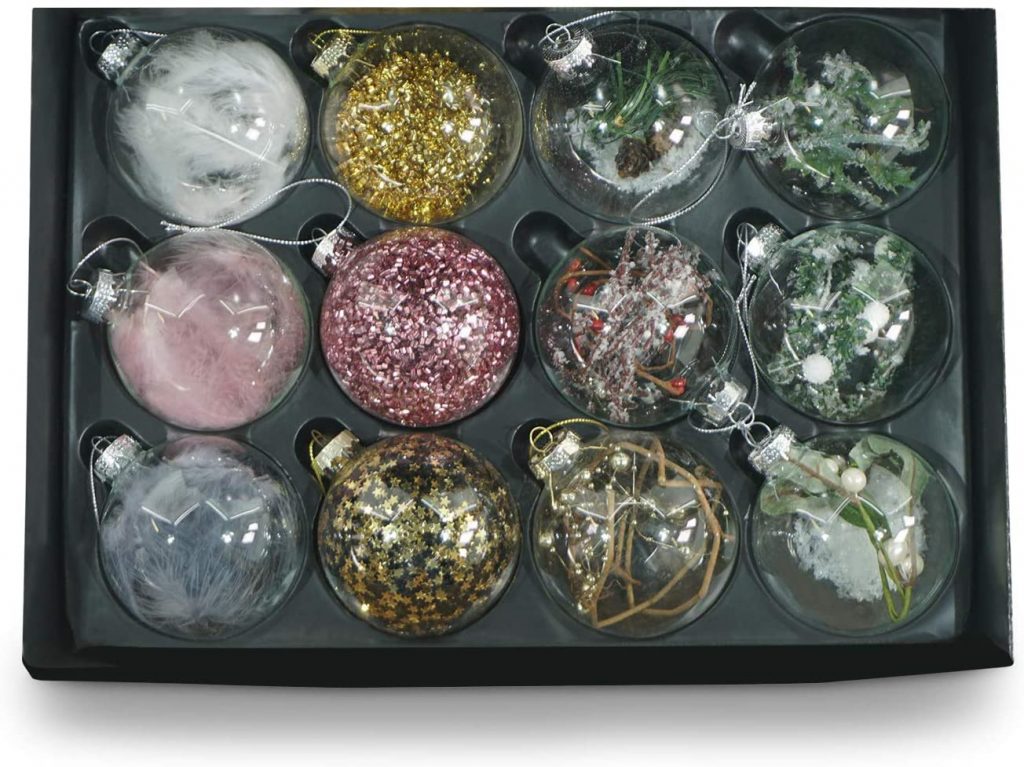 If your looking for eye-catching luxury Christmas baubles, these are guaranteed to catch anyone's eye. Each bauble has a unique design and will allow you to add a bit of fun along with a little pop of colour to your tree.
With the use of different materials and brighter colours, this set is ideal for those that prefer more modern Christmas decorations while still adding a bit of Christmas magic to their tree.
Best Glass Christmas Baubles
---
Although plastic baubles can be a better option if you have little ones at home, nothing beats hanging beautiful glass ornaments where little hands can't reach. Finding beautiful designs that will last can be hard, so we've listed out top picks to help you find what your looking for.
1. Elizabeth Claus Handmade Glass Christmas Baubles Pack of 4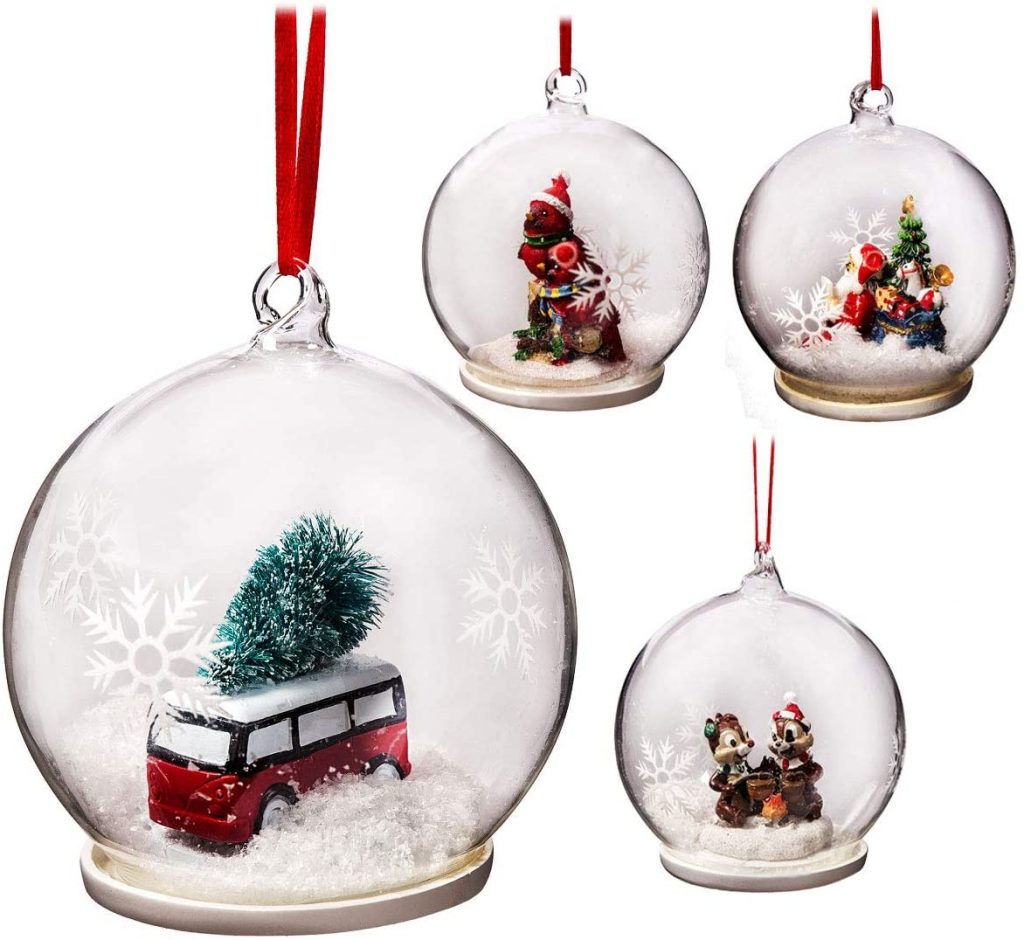 These handmade glass baubles would make a beautiful addition to any Christmas tree. The four distinct baubles are ideal if you love the look of unique ornaments that stand out from the rest. These baubles will look great no matter if you prefer traditional baubles or are going for a more modern look.
Wish you could have more than 4 of these beautiful baubles? Elizabeth Claus also sell another pack of 4 glass baubles with different Christmas figures inside that will look great when displayed with the this set.
2. Warmiehomy Set of 4 Glass Christmas Baubles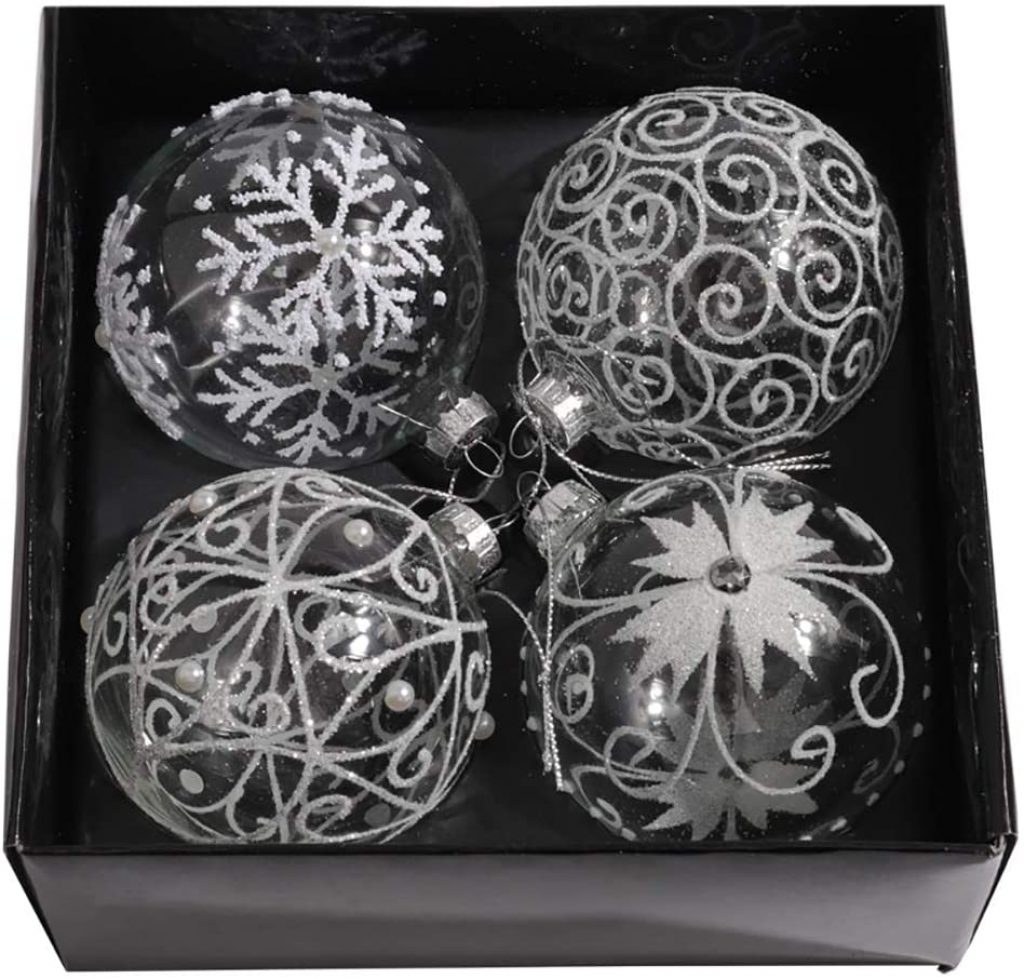 This pack of 4 glass baubles are a perfect mix of modern and traditional design and will fit perfectly with your current collection of Christmas baubles. The glittery design is also perfect for reflecting the fairy lights on your Christmas tree, adding a little bit of extra magic over the holidays. These baubles come with a removeable cap so you can fill them with different things to make them unique and special.
This makes these DIY baubles a great gift for loved ones as they can be cherished and displayed proudly for years to come.
3. Knik Glass Set of 12 Handcrafted glass Pinecone Pendant Christmas Baubles
These pinecone pendants are perfect for adding different shapes or a pop of colour to your Christmas tree. If pink and gold isn't your favourite, these are also available in a number of other colours including gold, red. blue, pink, green and orange.
Best Personalised Christmas Baubles
---
For most people, Christmas is a time for family and friends. Adding Christmas baubles and decorations that can be personalised is a great way to represent those most important to us. From commemorating special Christmas' to displaying your favourite memories, here are our top picks for personalise baubles.
1. Rustic Charm Personalised Christmas Tree Decoration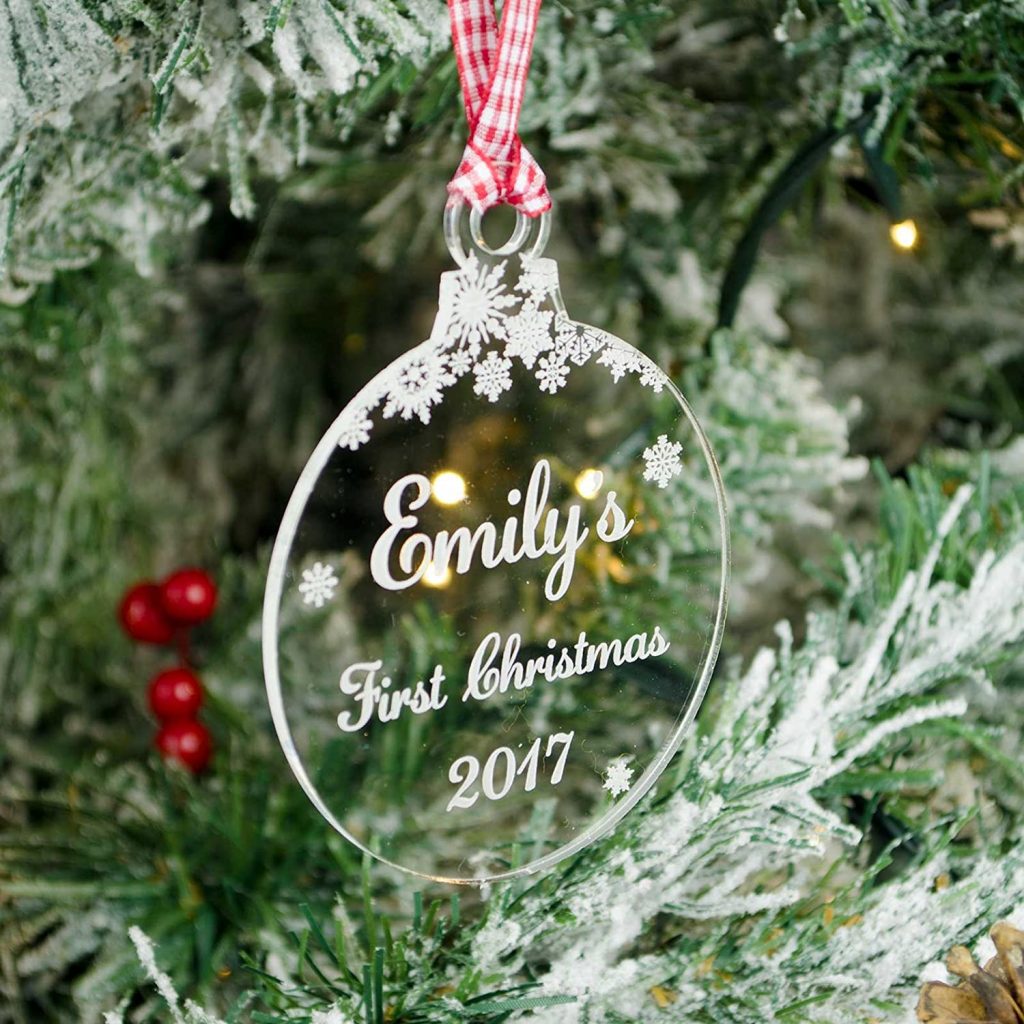 If your looking for a special ornament to mark a special Christmas, these personalised ornaments are perfect.
Made from clear acrylic, the engravings are easy to read and safe to hang on your Christmas tree without the worry of it shattering. Whether your looking to mark a baby's first Christmas or a married couples first Christmas, each ornament is engraved to order. Don't have a special occasion? Rustic Charm also offer an ornament engraved with the name of someone special to you.
These are a great keepsake to hang on your tree for years to come.
2. Tabetha's Touch Personalised Family Christmas Ornaments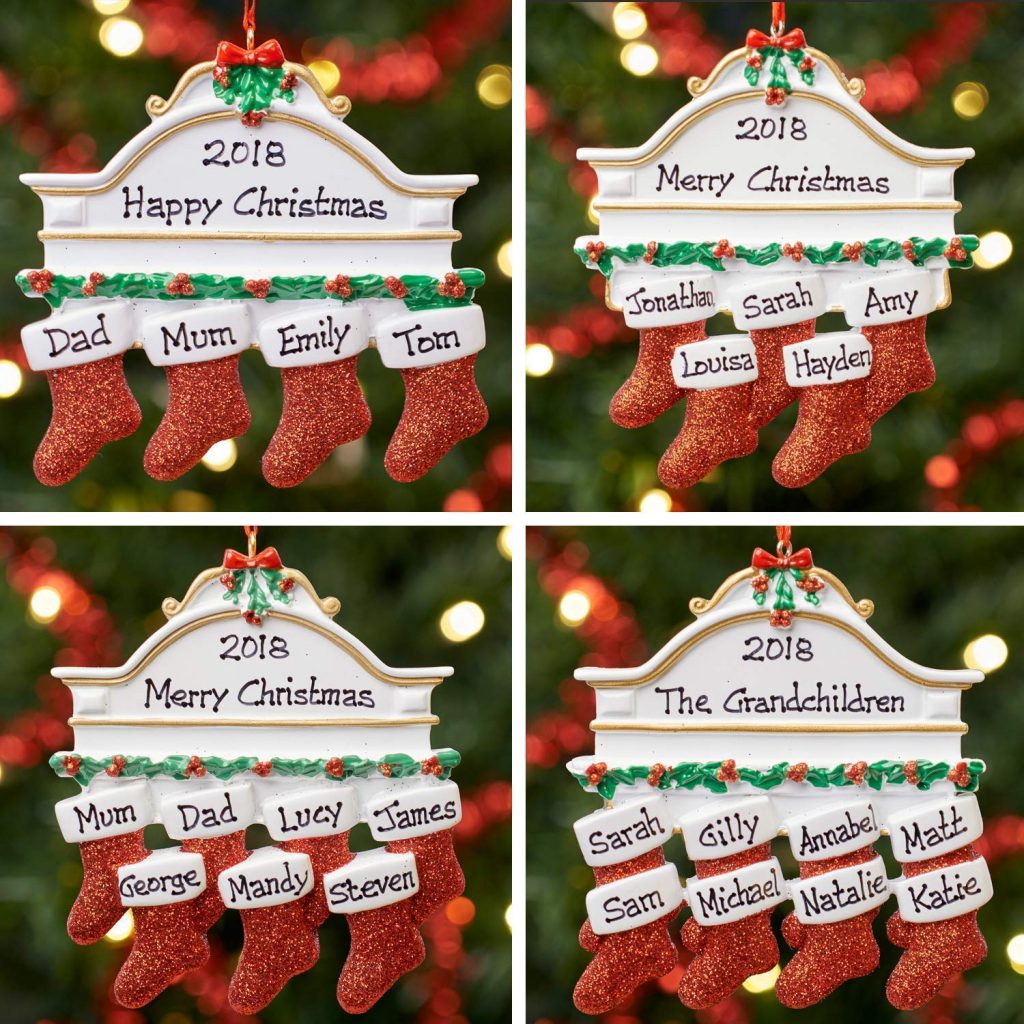 These personalised family ornament is a great way to represent your family on your Christmas tree. Available in a range of options from 2 to 8 names, no one needs to be left out. Whether you'd like one to display on your own tree or for a loved one, this is an ideal gift.
If you aren't the biggest fan of Christmas stockings, Tabetha's Touch offers a variety of other designs. Other designs include a personalised family in a sleigh, a personalised family gingerbread house and a Christmas tree with a hanging ornament for every member of your family.
3. Shot2go Pack of 8 Christmas Photo Baubles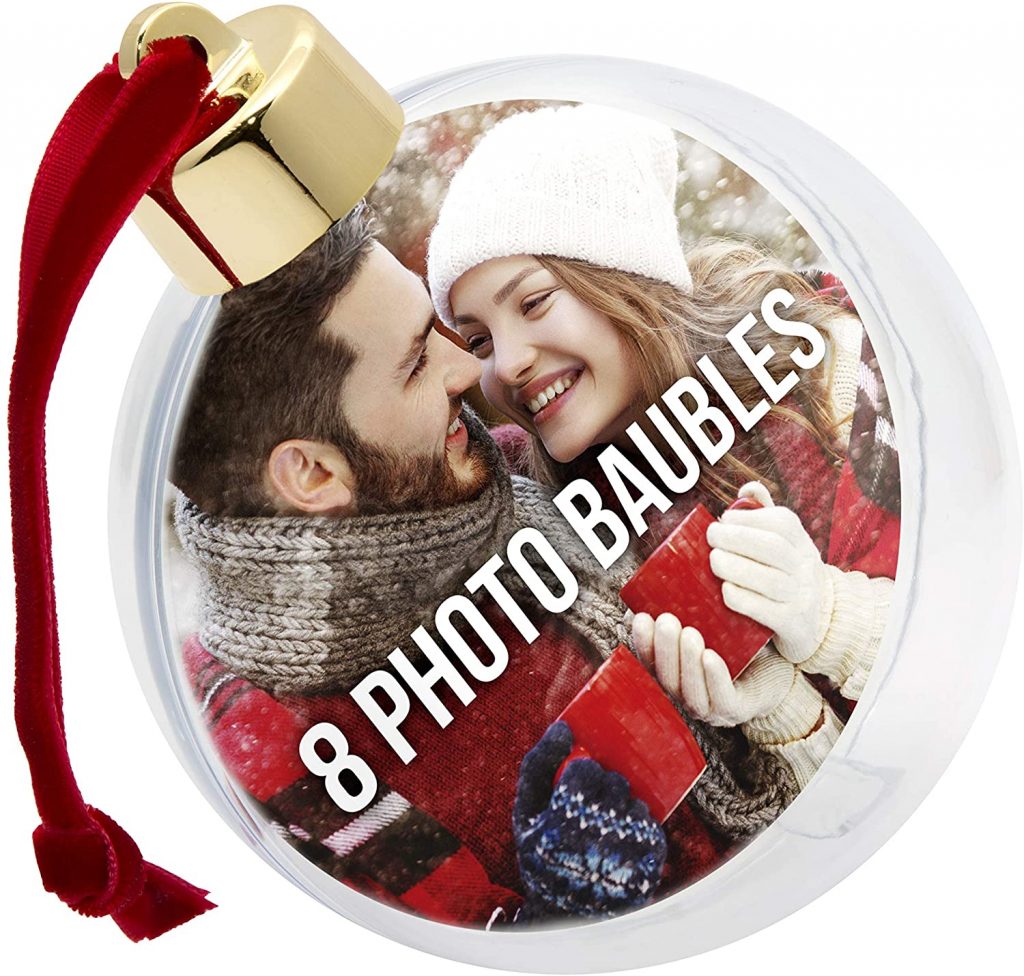 Adding your own photos to these Christmas baubles is a great way to display your favourite memories proudly on your Christmas tree. Each photo baubles comes with a template, which will help you to endure your photo prints to fit perfectly.
These baubles also give you the option to switch the photos out regularly, especially if your having a tough time picking your top 8.
Best Christmas Tree Baubles
---
With the wide range of Christmas baubles on the market, deciding what you'd like can be overwhelming. Our list of our top picks is a great way to get some inspiration.
1. Dawa 40 Piece Clear Icicle Christmas Ornaments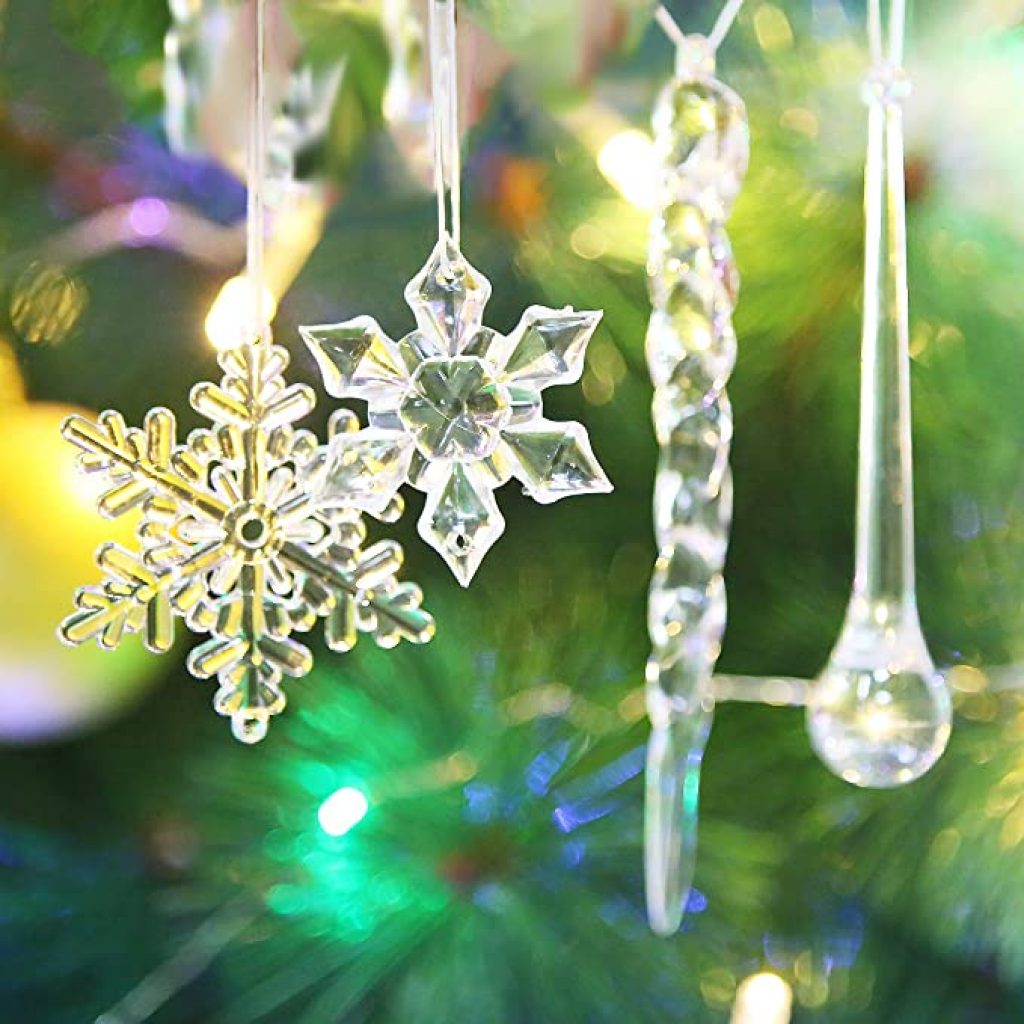 If you love decorating your Christmas tree with more modern baubles and decorations, these clear icicle decorations are perfect. With 4 different icicles and snowflakes you'll be able to create a perfect wintry themed Christmas tree.
Made from clear acrylic, you can relax knowing these are safe to use especially with little ones or in busy homes.
2. Sea Team 30 Piece Christmas Bauble Set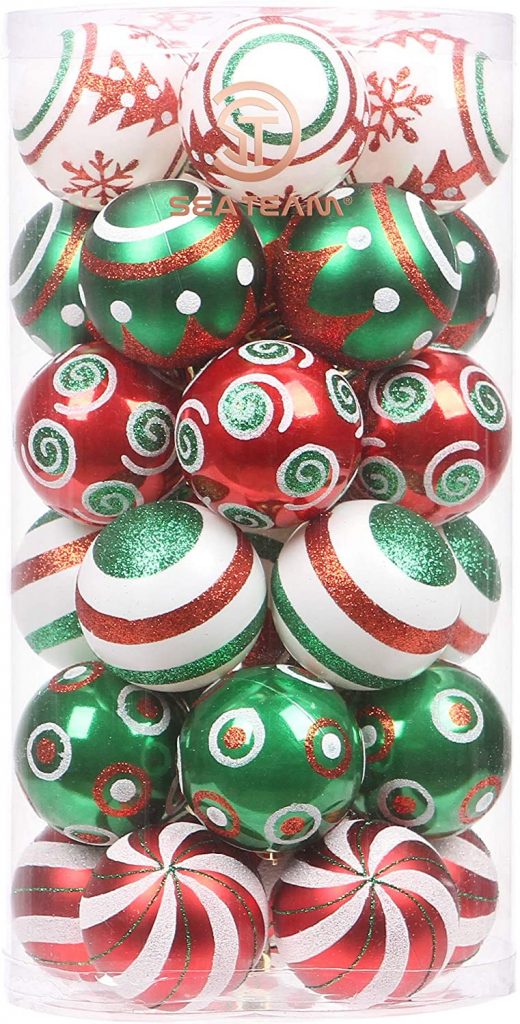 This 30 piece Christmas bauble set is an essential buy for every Christmas tree. This set includes a range of designs in the colours chosen, so you'll have a range of beautiful baubles to decorate your Christmas tree with. If red, green and white aren't the colours you'd like for your Christmas tree then why not check out the other colours this set comes it.
This set is also available in a range of different colours including silver, blue, red, black, gold, pink and grey.
3. Prextex 36 Piece Christmas Bauble Set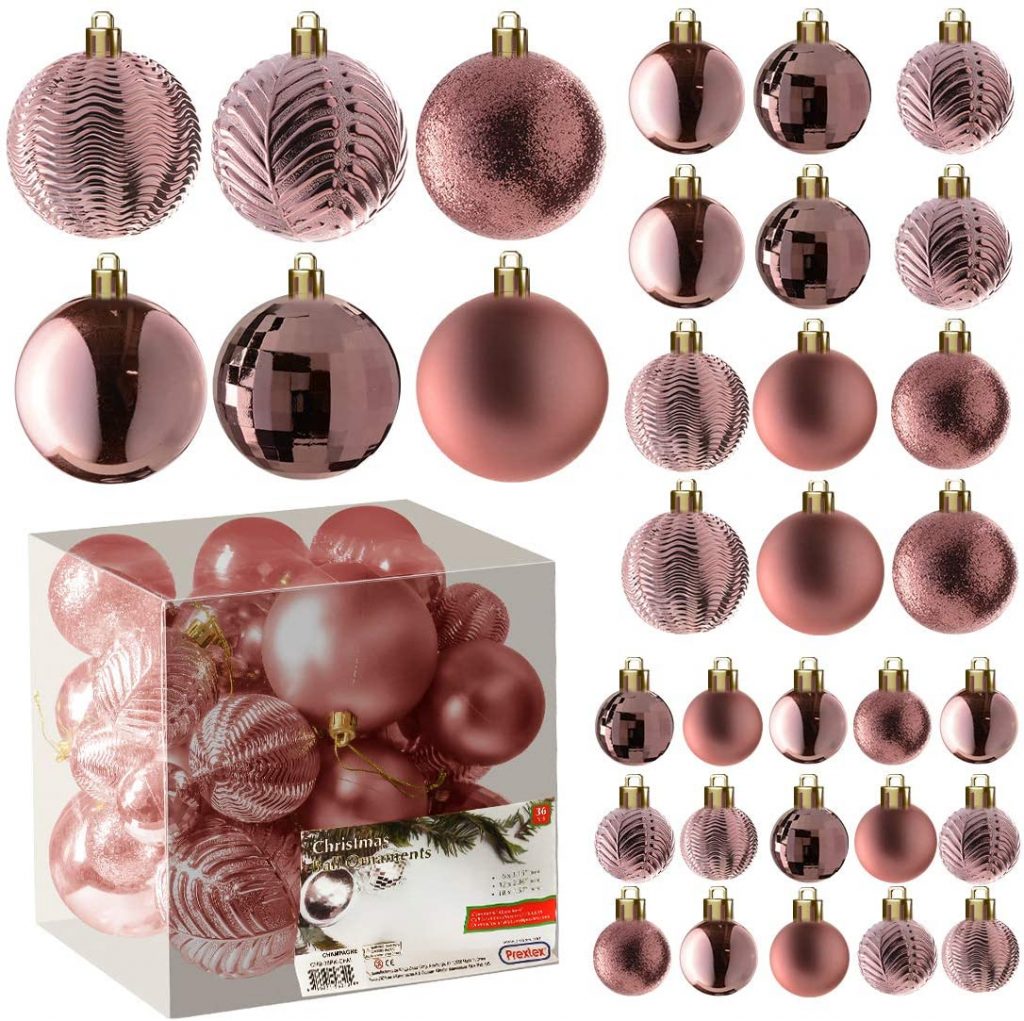 Sometimes the simplest designs can be exactly what your looking for.
Whether you want to add eye-catching pops of colour to your Christmas tree, or your looking to fill in some gaps this set of baubles is perfect. This 36 piece set of Christmas baubles comes in a wide range of colours, including a number of pinks, a range of blues, a few greens, along with red, silver, gold, copper, purple and yellow.
Be sure to check the link below to see the large range of colours this set is available in.