It can always be a struggle finding the right Christmas jumper! So we've put together a list of our top Christmas jumpers for every occasion, to help you find one that's right for you these holiday season.
Best Women's Christmas Jumpers
---
If you're a woman trying to find the perfect Christmas jumper then stay tuned for this list. We have tried to feature a wide selection of Christmas jumpers to suit all shapes and sizes during the festive season.
1. Style Dome Womens Jumper Dress V Neck Tunic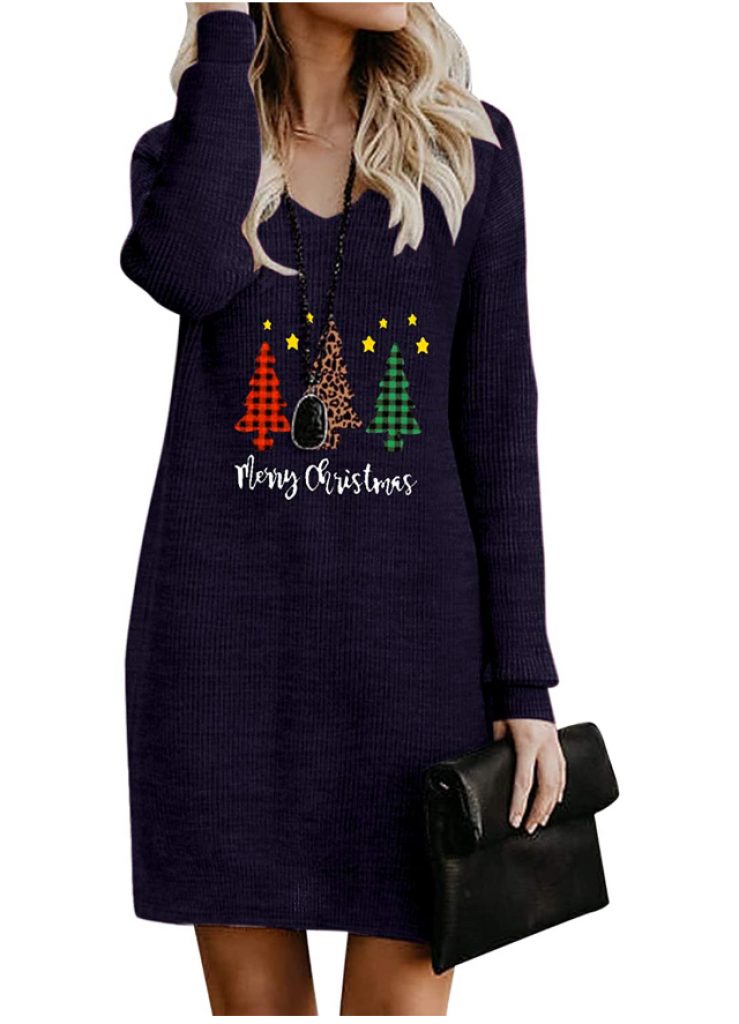 In the top spot for women's Christmas jumpers we have this jumper dress from Style Dome. Who could resist a jumper and dress in one.
This super chic jumper dress is great for the festive season, it will keep you warm while still adhering to all your style needs. It's subtle design and new take of the Christmas jumper makes it the perfect outfit through the whole of winter.
2. Abollria Women Jumpers Christmas Reindeer Long Sleeve Chunky Knitted Ribbed Sweater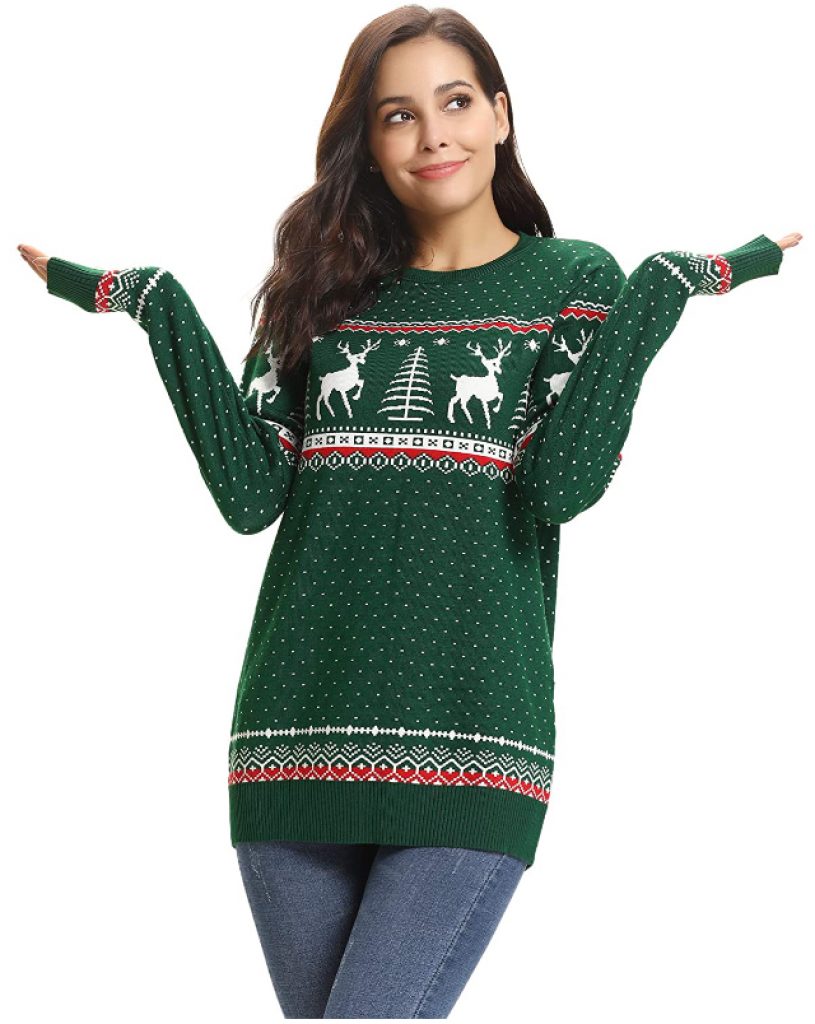 This style of jumper is completely classic and traditional. It is also great for those wanting a jumper that they can wear throughout Christmas though. The design is pretty and traditional, with no wording on the jumper meaning it could be worn all through winter. The green colour is also nice and traditional, and uses red details to tie in the overall festivity of the jumper.
So if you're looking for a timeless classic then this fairisle print piece is perfect for you.
3. WearAll Women's Knitted Merry Christmas Long Sleeve Xmas Tree Ladies Pom Jumper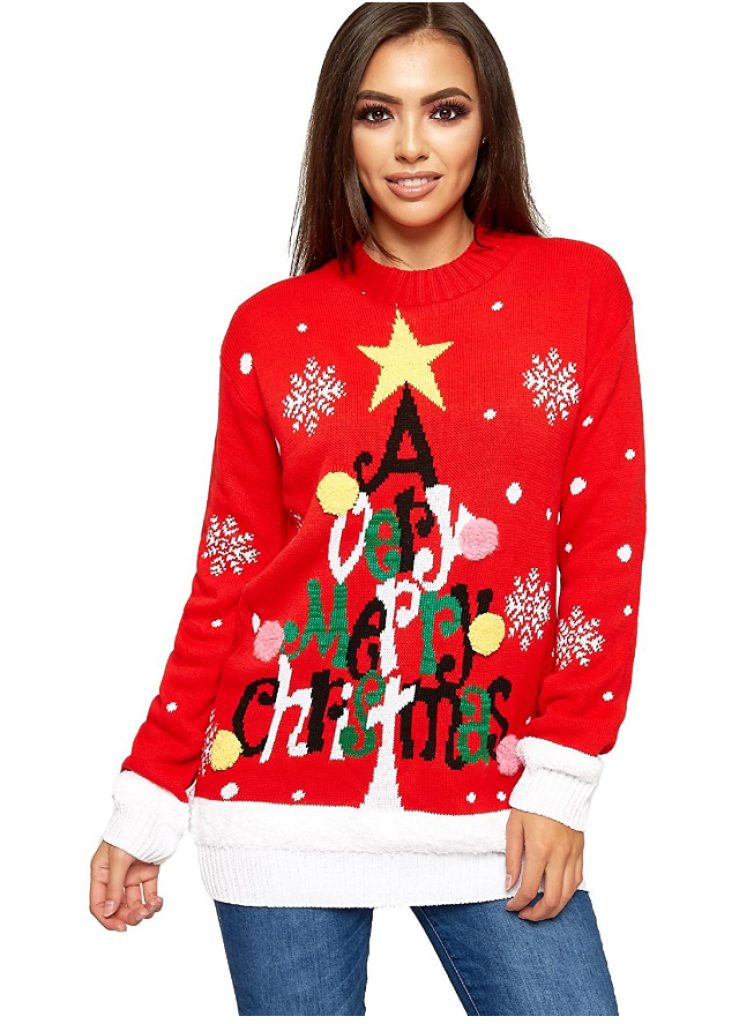 Third on our list is this festive red number. The red of this Christmas jumper is very bright and eye catching, which means you can stnad out in this jumper.
It is also very clear that this jumper is a Christmas jumper as it uses a Christmas tree as it's main design. We'd recommend this jumper for a Christmas jumper day, as the design is very festive but the jumper itself is still very affordable.
Best Men's Christmas Jumpers
---
Looking for the perfect Christmas jumper for going out with your mates? Well we're here to take all the hard work out of the hunt for the best Christmas jumper for you! Here we have the top three men's Christmas jumpers available this season, with something for everyone's taste.
1. Mens Christmas Tree Reindeer Snow Fairisle Pattern Novelty Xmas Jumper Sweater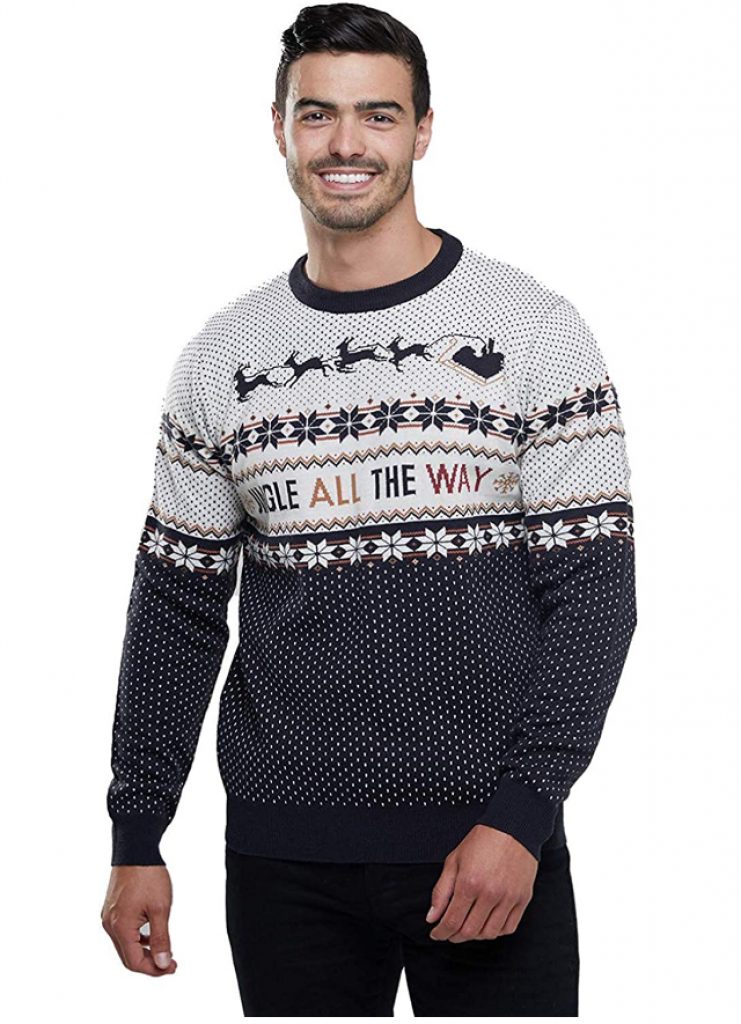 Our top pick for men's Christmas jumpers, is this navy and white one from Threadbare. The style of this Christmas jumper is a little more subtle than others on the market. This also means that this jumper should be able to go with almost any outfit, as the colours shouldn't clash with the rest of your outfit.
So, if you're someone who loves Christmas but you aren't to comfortable with the bright colours usually involved, then this jumper could be the perfect compromise.
2. NOROZE Men's LED Christmas Jumper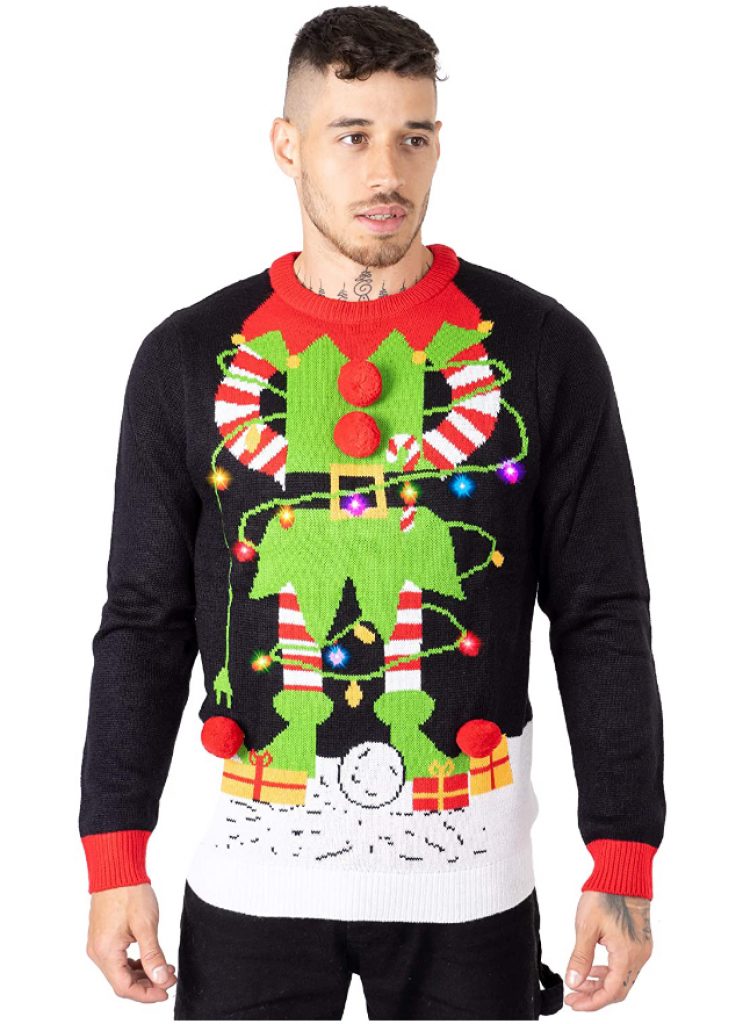 This elf Christmas jumper is a really fun way to celebrate Christmas, and maybe even get a laugh or two while you're getting in the festive spirit.
The design lets you become a elf for the day, which means there should be lots of photo opportunities. Another great thing about this jumper is that it has LED lights in the baubles on the jumper, so you'll even stand out at night time. If you want to stand out from the crowd, then this jumper could be the perfect match for you!
3. Tokyo Laundry 'Merry Christmas' Crew Neck LED Light Up Xmas Jumper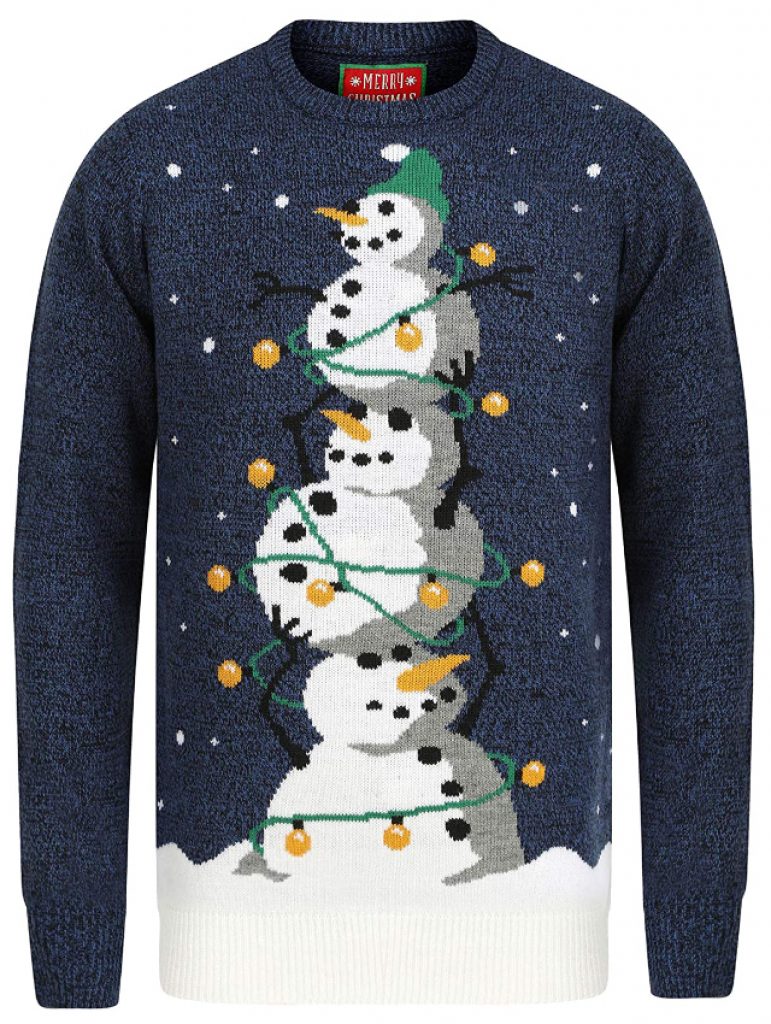 A blue snowman jumper might be exactly what you've been looking for. The best part of this jumper is the fact that it actually has LED lights on the jumper.
This means you can make a statement when you want to make a statement, but turn of the LEDs for a more subtle jumper.
Best Family Christmas Jumpers
---
It's that time of year again, time for family photos in the same jumper on the front of the Christmas card. So if you're looking for your next family photoshoot look, then these Christmas jumpers could be exactly what you're looking for. Just grab the family and say 'cheese' with these festive staples.
1. Aibrou Unisex Christmas Jumper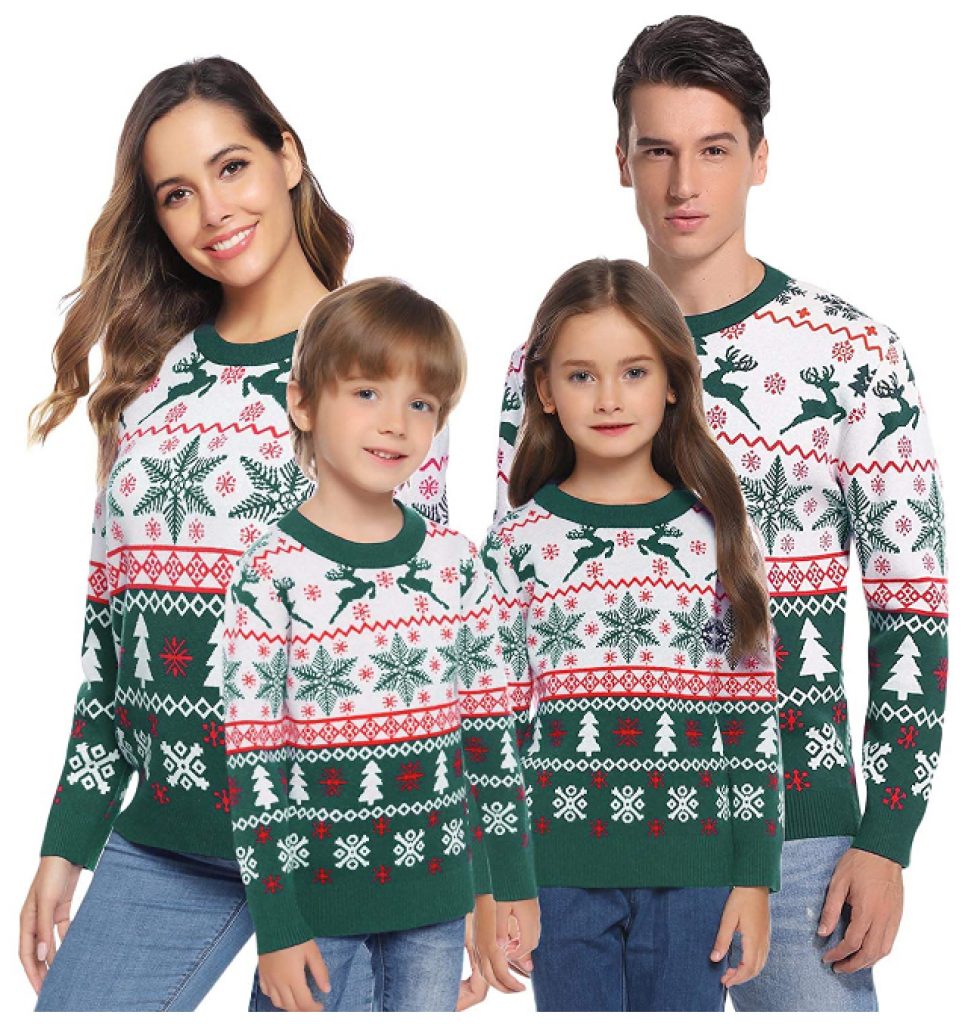 These classic jumpers are at the top of the must have list this season! The colour scheme itself it super Christmassy, with the green and red. Not only that but the actual design on the jumpers is super cute and very versatile for the males and females in your family.
So, if you like a very traditional colour scheme at Christmas, then you and your family will absolutely adore these.
2. Akalnny Christmas Family Matching Jumper Long Sleeve Round Neck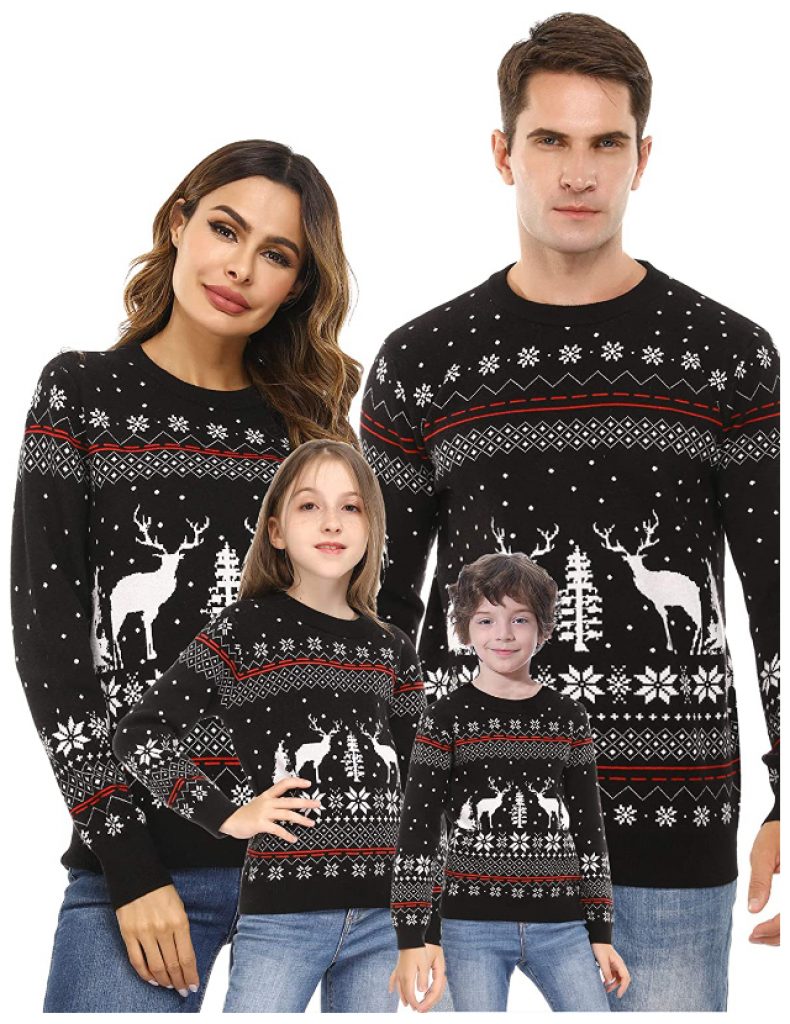 These black jumpers steer away from usual tradition and give a more modern colour some Christmas spirit.
The fact that these jumpers are black definitely steers away from tradition, but it also means they're easier to match with outfits.
3. Aibrou Xmas Family Jumpers, Long Sleeve Christmas Snowman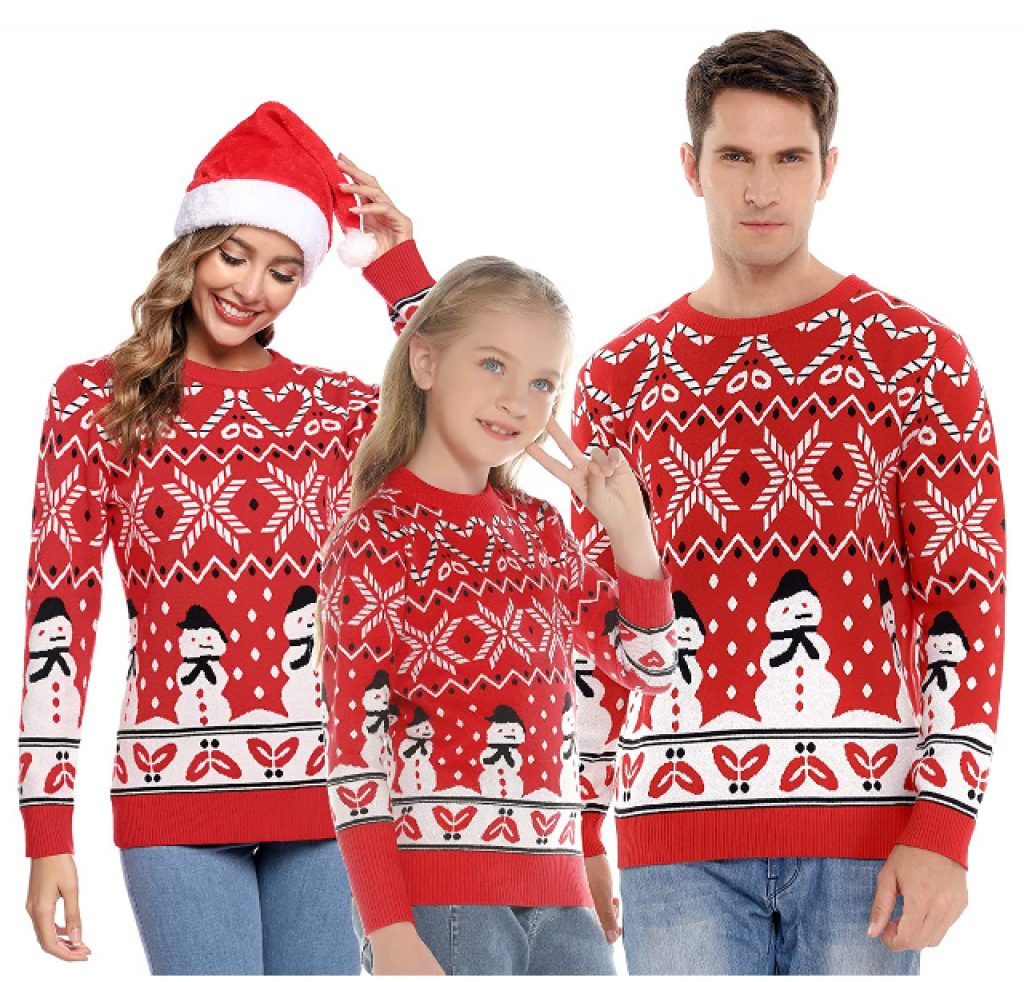 Of course no Christmas jumper list would be complete without a red family jumper. We've managed to find you a slightly different take on the classic red Christmas jumper, as the design features snowmen at the bottom of the jumper.
These jumpers are definitely very traditional and are great for a very festive family or friendship group.
Best Novelty Christmas Jumpers
---
A novelty jumper is always fun, its a great way to show other people things you're interested in while also having a bit of fun with your style. These top picks for the best novelty Christmas jumpers are a great way to have a slightly more unique style on Christmas.
1. Numskull Unisex Official The Grinch 'Merry Grinchmas' Knitted Christmas Jumper for Men or Women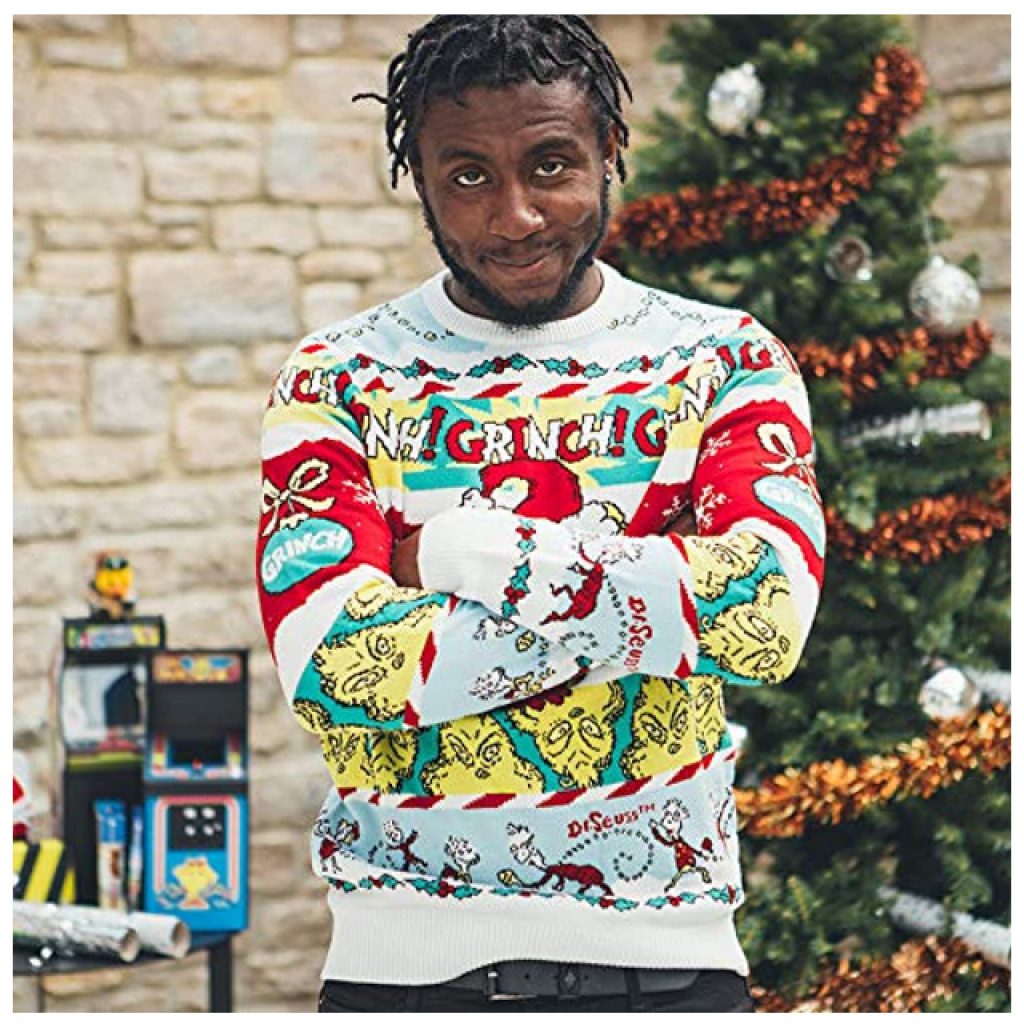 Who doesn't love 'The Grinch' at Christmas? Well with this super unique jumper you can take your Grinch love to whole other level.
This jumper uses some traditional Christmas colours mixed with some untraditional colours to create a Dr Seuss inspired look. So if you're wanting to stand out from the crowd this Christmas then this Grinch jumper could be a fun way to achieve that goal.
2. Christmas Jumpers Unisex, Xmas Novelty Knitted Sweater Marvel Iron Man 2019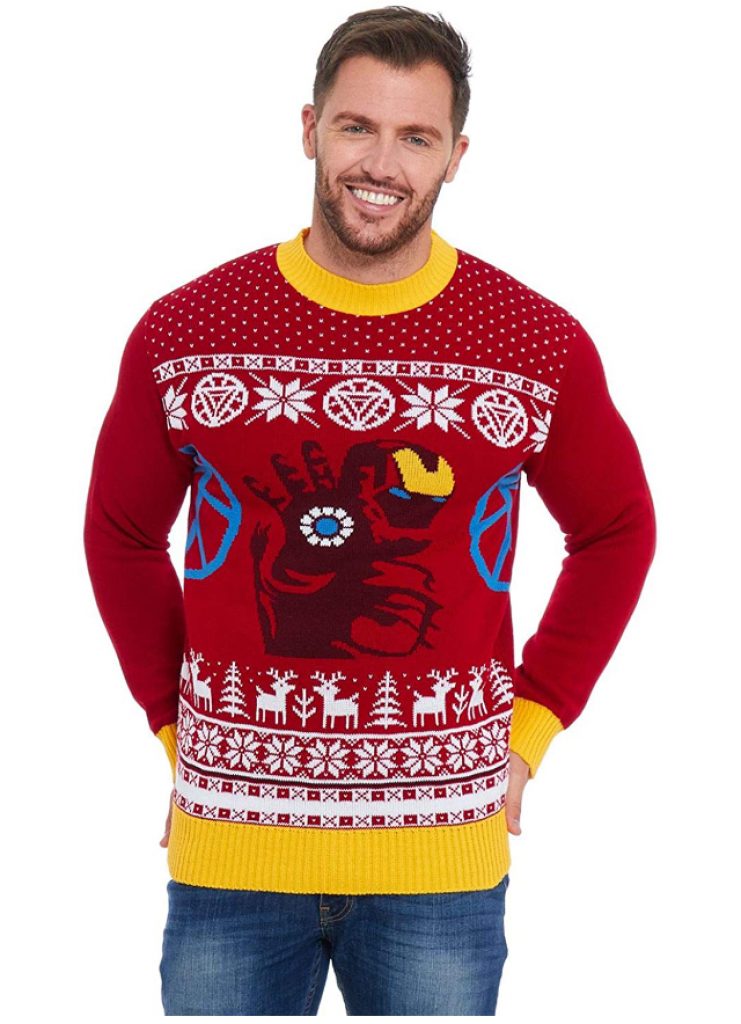 Marvel or DC? The question is always a tricky one for comic book lovers, but with this Iron Man Christmas jumper on you'll be picking team Marvel. This unique Christmas jumper is a great way to support two things you love, Iron Man and Christmas.
The design of this jumper is still fairly classic though, so even someone who doesn't know comic books would know you're at least wearing a Christmas jumper.
3. New Mens Womens Xmas Jumpers Novelty Sweater Knitted Retro Pullover Burgundy Merry Christmas Ya Filthy Animal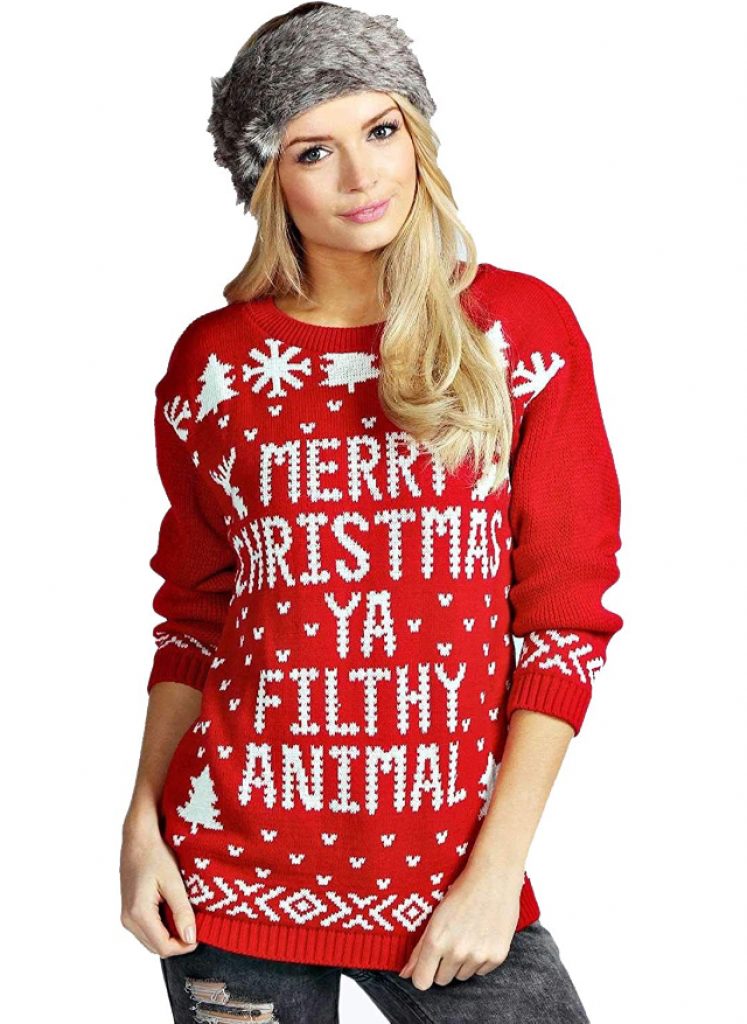 What would Christmas be without a bit of Home Alone memorabilia.
This Christmas jumper makes everyone thing of that famous scene in the movie and is an ode to Christmas movies. So, if you love the classics or you're a bit of a film lover then this jumper could be the perfect festive purchase for you!
Best Outrageous Christmas Jumpers
---
If you're looking for a more unique take on the classic Christmas jumper, then we've got you covered. For this list we have some of the most quirky jumpers around on offer, meaning you'll definitely stand out from the crowd in one of these.
1. Christmas Jumper 3D Adults Men Women Jumper Xmas Funny By ASVP Shop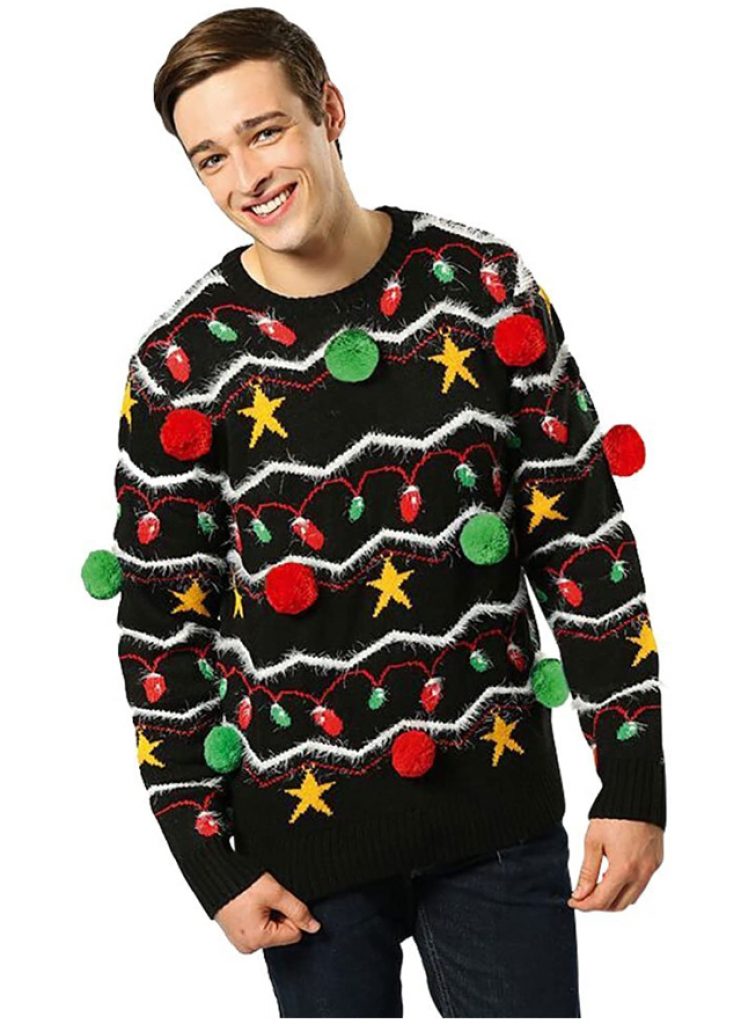 This 3D Christmas jumper is definitely for someone who's feeling a little bold this festive season. The star and pompom design is simple but effective, while still sticking to a classic festive colour palette.
2. U LOOK UGLY TODAY Men's Ugly Christmas Jumper Funny, Cool LED Fairisle Xmas Sweater Top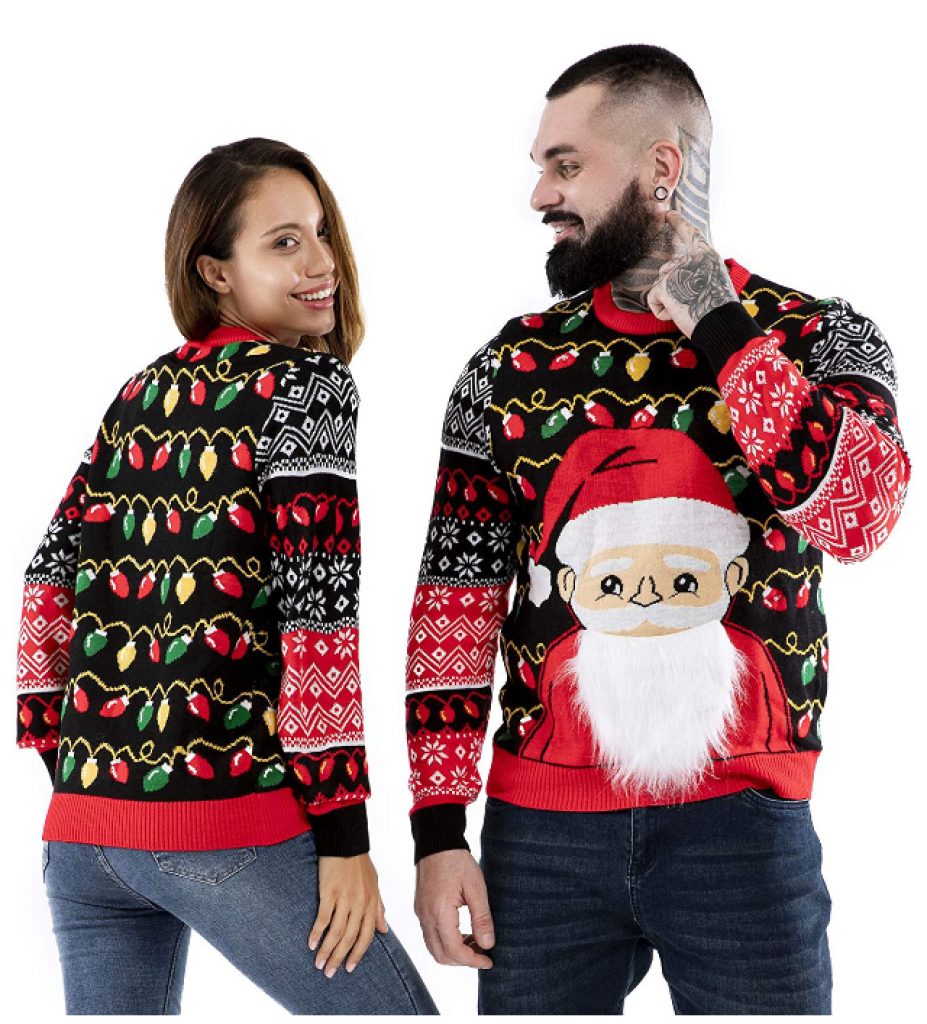 This jumper is definitely not for someone who doesn't like mixing patterns.
The jumper mixes lots of different patterns and designs to create this kind of crazy Christmas jumper. So, if you're someone who likes their Christmas jumper to be a little extra then this is most definitely the perfect one for you.
3. Green Turtle Taco Ugly Christmas Sweater for Men and Women Funny Taco Santa Xmas Sweater Jumper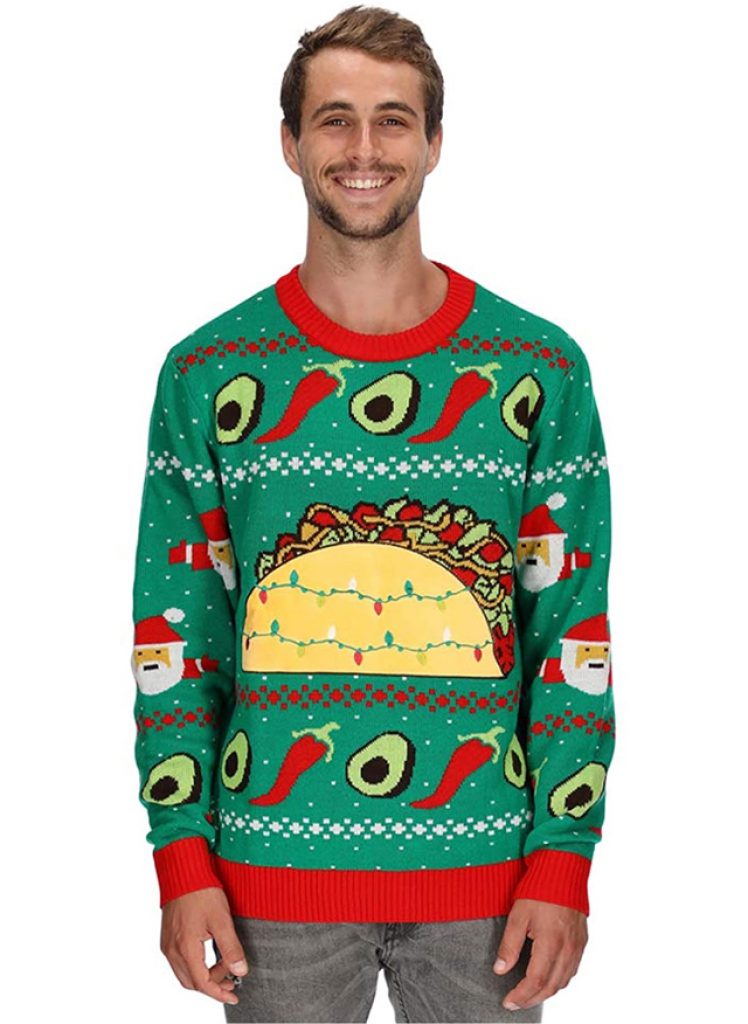 Now you may be confused why a Mexican food inspired jumper in on our Christmas list, but if you look a little closer you'll actually see that it is indeed a Christmas jumper. This design is super clever, as it uses the red and green food in Mexican to make the jumper more festive.
There are also little Santa's on the sleeves and Christmas lights on the taco to make the theme clearer. So, if you love Mexican food and Christmas, then you can literally combine them with this really fun design.