Ho to get the best family Christmas pyjamas
---
1. iClosam Family Matching Pyjamas Set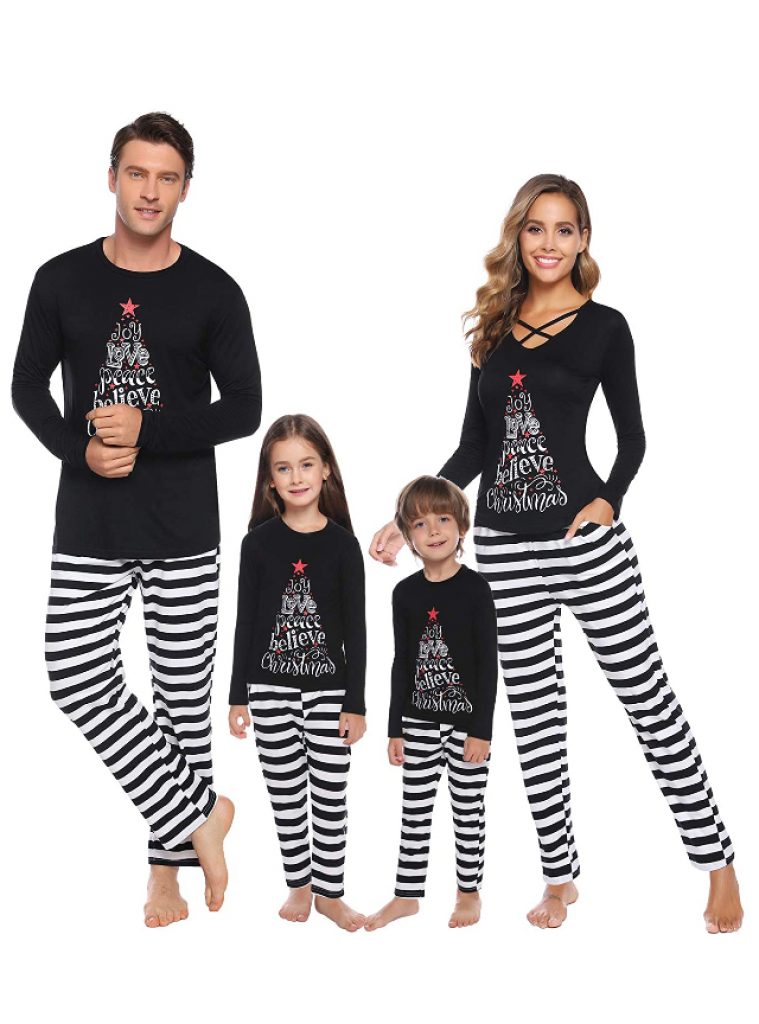 The top pick for matching family PJs has to be these subtle modern ones from iClosam. If you're looking for matching Christmas pyjamas for the whole family but want to go down the less traditional route, then these iClosam family pyjamas could be the perfect choice.
With their monochrome style, it makes them easier for wear in other months, but around Christmas time too.
The colours also perfect for kids and adults of all ages with it's neutral colour scheme.
These are definitely a more fashionable alternative to the traditional red and green Christmas pyjamas, especially the top for the women's set with its crisscross design.
2. Aibrou Matching Christmas Pyjamas for Family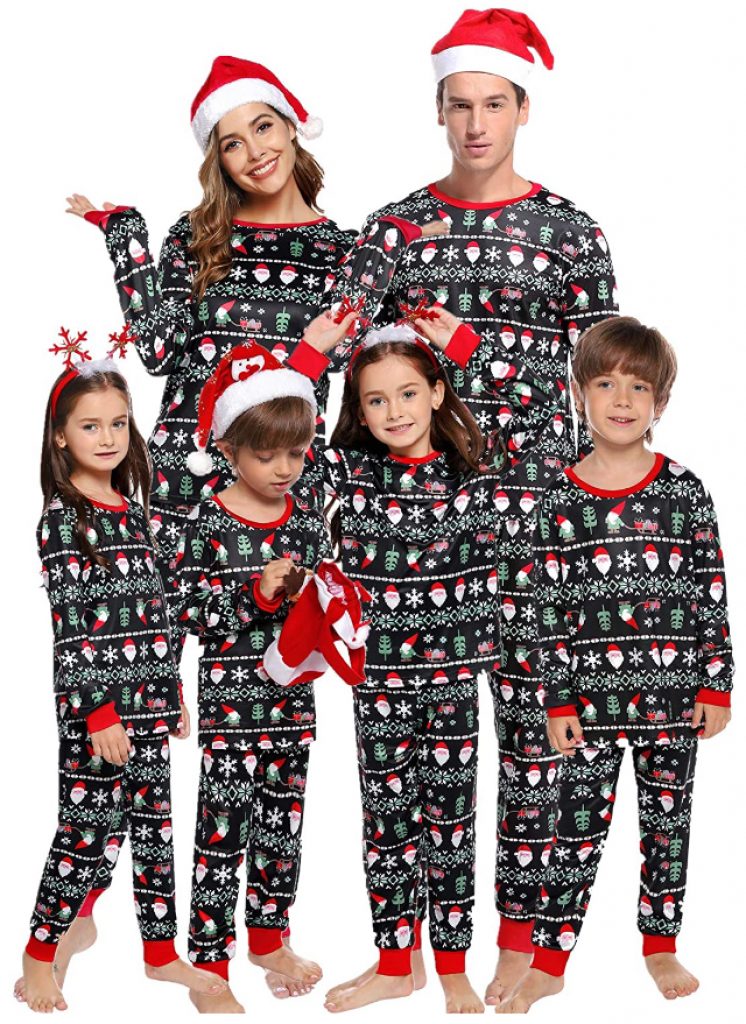 These fleece lined Christmas pyjamas could keep your whole family warm this winter.
These PJs are perfect for family's wanting to be completely matching, as they are great for men, women, boys and girls.
They also use everyone's favourite Christmas colour of red for the outfit trimmings, meaning you can feel even more festive. So get snuggled up with a hot chocolate or a great Christmas movie with the family in this beautiful pyjama set.
The classic design of these pyjamas make them versatile and suitable for the whole family, especially the kids with the Santa design all over.
3. Little Blue House by Hatley Fair Isle Bear & Moose Family Pyjamas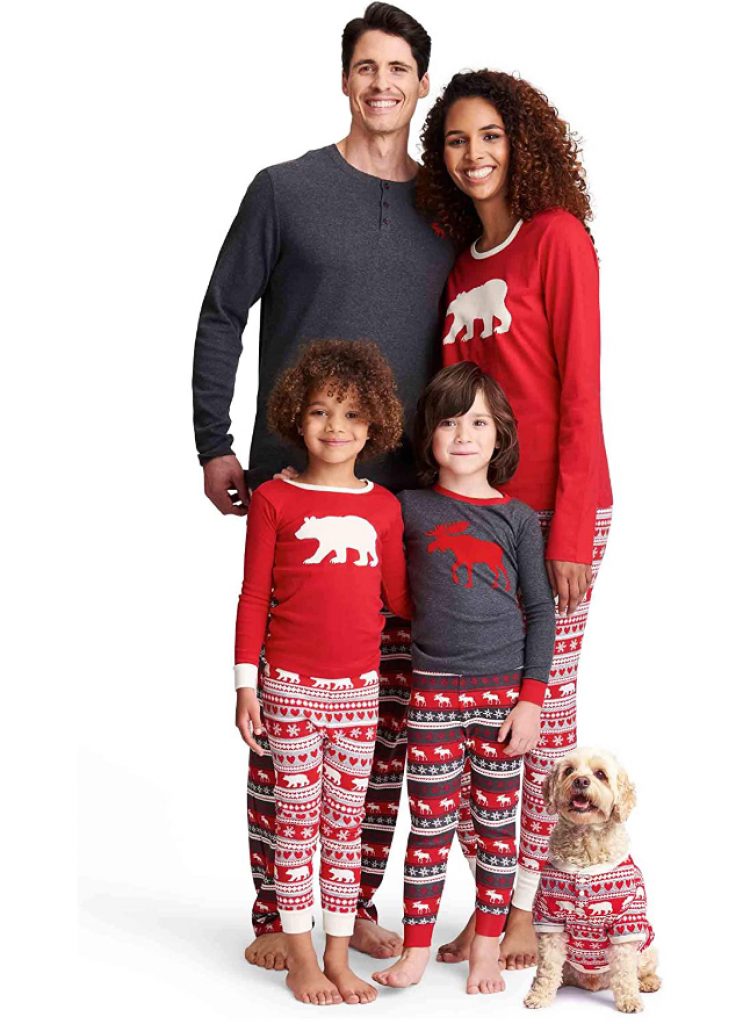 If you've got a pet in the family then these Christmas pyjamas could be for you. With these PJs you can even have your dog match you around that special time.
These pyjamas are also great for those who don't like the fully cohesive look of the traditional matching family Christmas pyjamas.
These pyjamas have a option for the kids to have the bear or moose print PJs. Which is a great way to make your kids feel unique and special while still being able to match with the family.
Better yet this also means that they're a little more personalised towards each and every child.
Best His and Her Christmas Pyjamas
---
1. 60 Second Makeover Limited Big Spoon Little Spoon Couples Matching Pyjama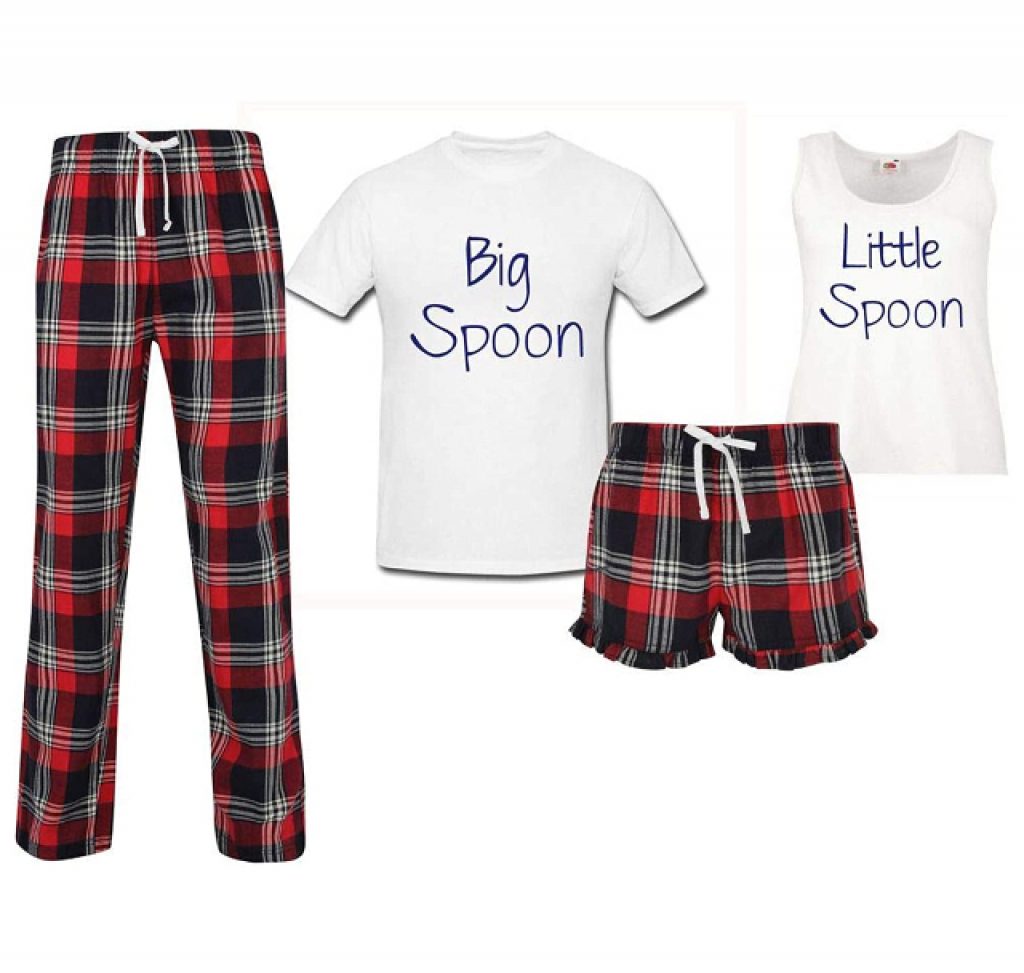 These big and little spoon pyjamas are a great addition for all couples loungewear wardrobe. They're especially great around Christmas time, with the tartan bottoms giving off the seasonal spirit.
So whether you're the big spoon or little spoon, these funny Christmas PJs could be the perfect way to cosy up and get festive with your partner.
2. BIG FEET PAJAMA CO. Red Plaid Cotton Flannel Adult Footed Pyjamas
It wouldn't be a Christmas pyjama list without head to toe tartan.
These onesies are sold separately, so they're the perfect cosy pyjama for one person or a couple too. The footed feature of these PJs mean that they should keep you extra toasty on those cold winter nights. So grab your partner and get warm by the fire in these tradition tartan onesies.
3. Yidata Women Men Couple Matching Pajamas Set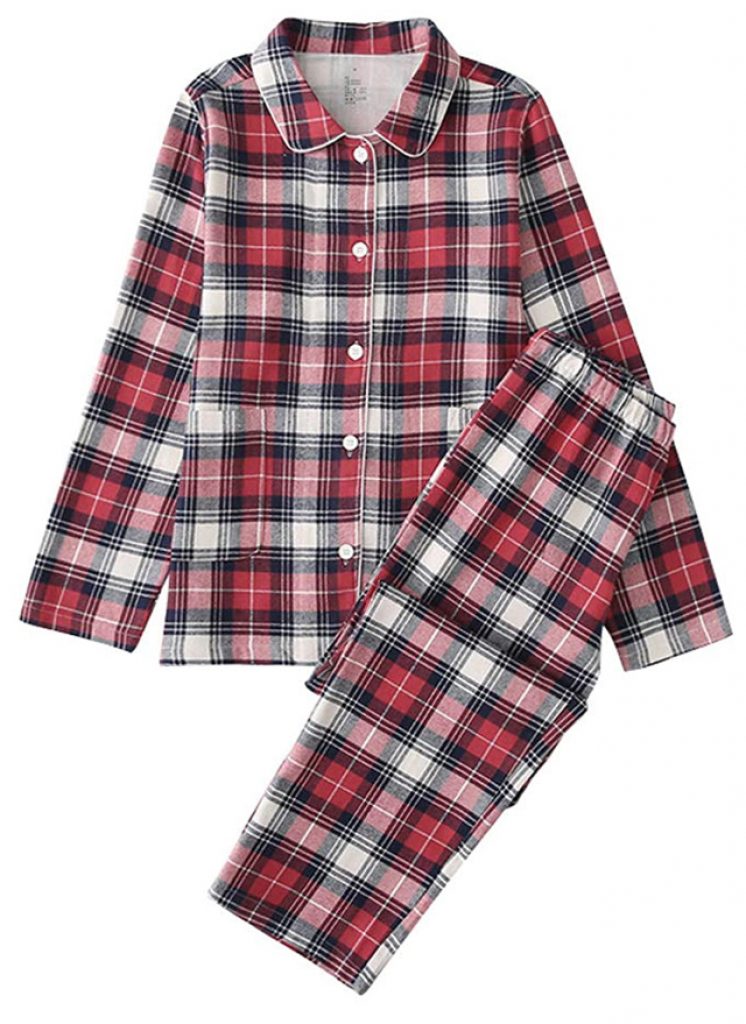 These classic unisex button down pyjamas are the perfect addition to your loungewear collection for Christmas.
This super cute pair of PJs can be worn by both men and women. Therefore, they would make an adorable couples pyjama set. What could be better than twinning with your partner, while watching your favourite Christmas movie.
Best Baby Christmas Pyjamas
---
1. Geagodelia My First Christmas Newborn Toddler Baby Girl Boy Outfit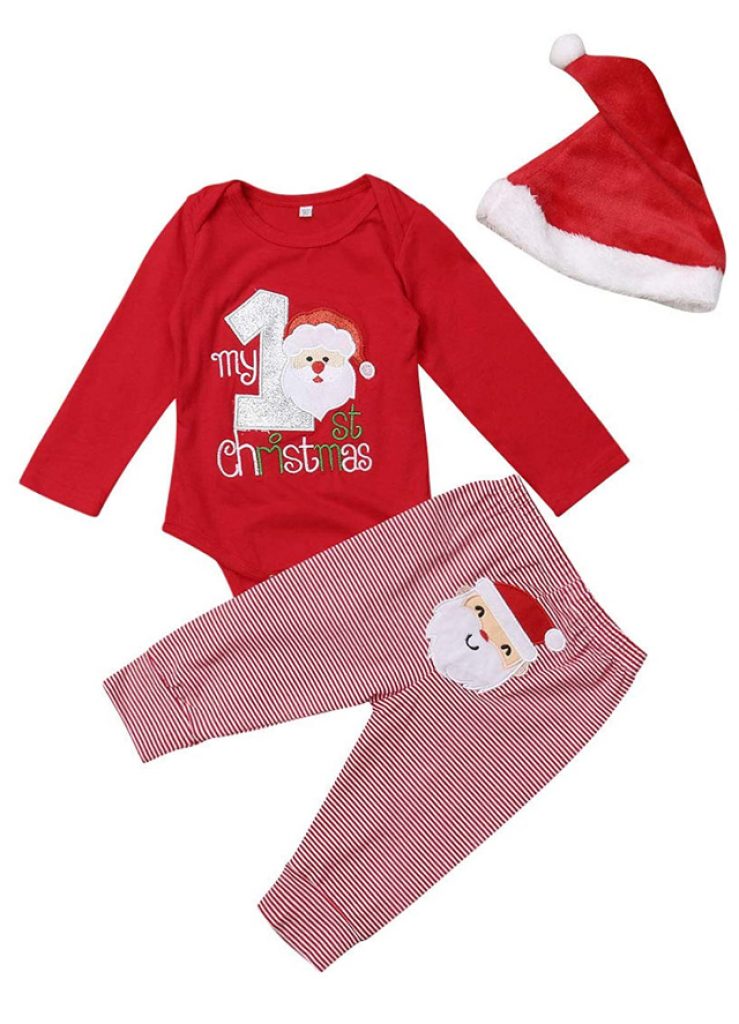 If it's your little ones first Christmas then this pyjama set is absolutely perfect.
It is a three piece PJ set for babies, with a Santa hat included. If you think it couldn't get any cuter then you clearly haven't seen the adorable Santa embellishment on the bottoms.
So, if you want the first Christmas to be one that should be remember then our top pick for that is this set. Don't forget to take lots of photos to remember the day, but who could resist with this sweet set anyway!
2. Simple Joys by Carter's Unisex Baby 2-Pack Holiday Loose Fit Flame Resistant Fleece Footed Pyjamas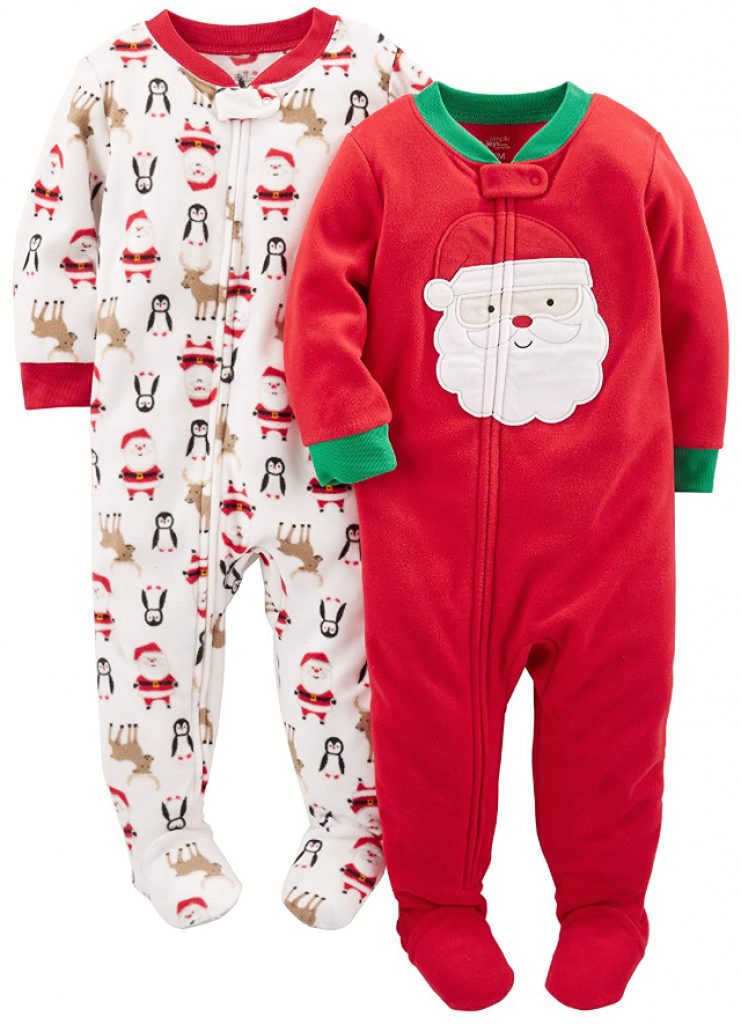 These two baby grows are equally as cute, but they offer variety and a cheaper price point than many Christmas PJs.
These all in one suits are also super toasty for your baby with the footed all in one design. The great thing about these very cute onesies is their traditional colours. So if you opt for a traditional colour scheme at Christmas, then these could be perfect for your baby.
3. mimixiong Baby Christmas Sweater Romper Knitted Reindeer Jumpsuit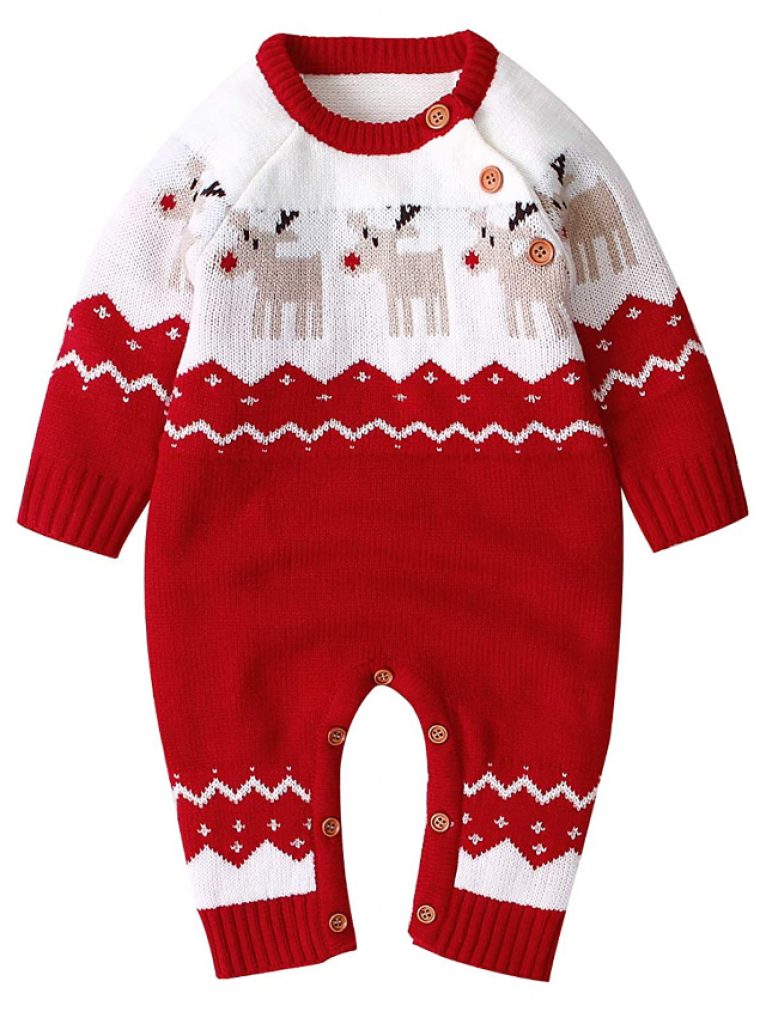 This adorable all in one Christmas baby sweater is the perfect addition to any cosy night in, but it's especially great for Christmas celebrations.
You can go from cold day to night with this outfit as it is more of a cosy suit than pyjamas.
This means it's definitely versatile, but will still keep your little one cosy and warm. It will also look equally as cute on both boys and girls, as it sticks to the traditional colour palette of Christmas.
Best Women's Christmas Pyjamas
---
1. Hawiton Women Pyjamas Set Loungewear Long Sleeve Top & Bottoms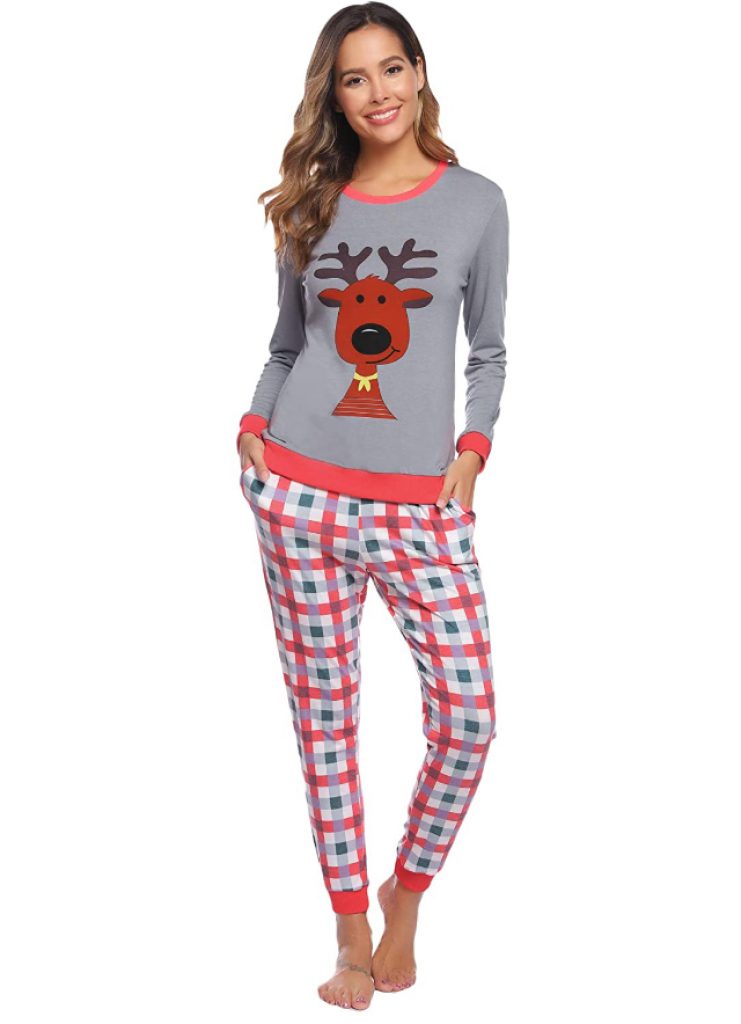 These very sweet reindeer pyjamas are the perfect pair to wear for Christmas.
Not only are they very cute but the colours used on them are slightly less traditional than usual. Meaning you can still feel a little unique and different while wearing your Christmas PJs.
It's worth mentioning that the bottoms do come in a classic tartan print though, so you can hold onto a bit of tradition while looking stylish.
2. MINTLIMIT Womens Pyjamas Set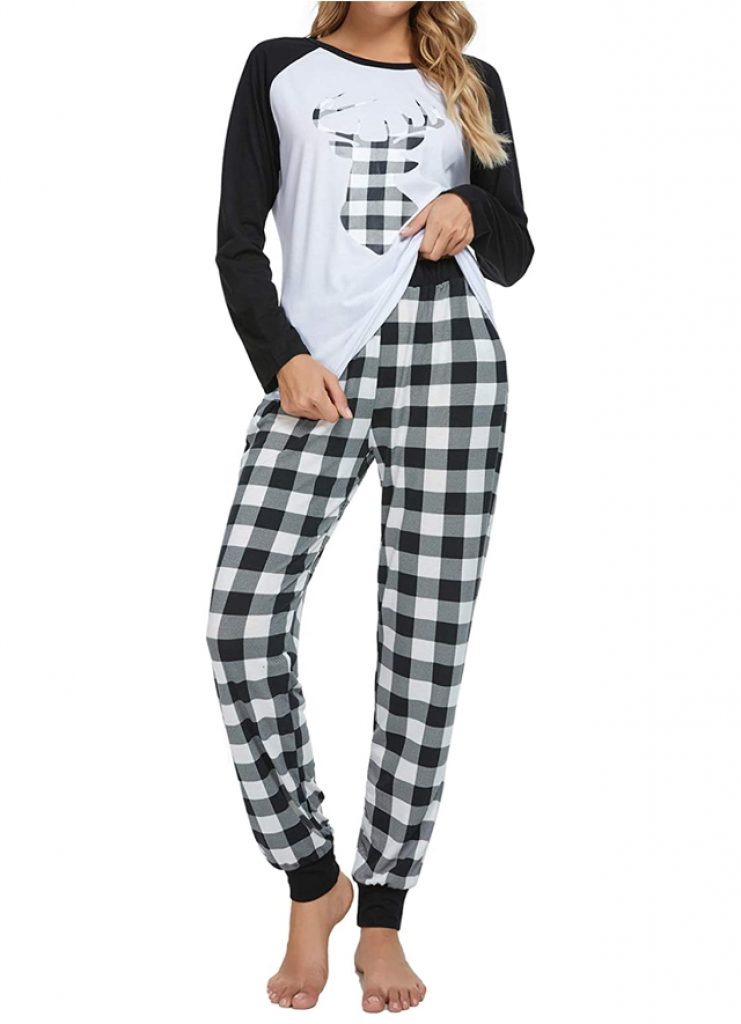 If you aren't a big lover of the red and green Christmas colour scheme then these PJs could be a chic alternative.
These pyjamas are black and white, giving off a more neutral vibe for the festive season.
However, they do have to have a little tradition about them, which is why they have a checked design throughout. They also use a bold reindeer design on the top which uses the same pattern as the bottoms to give off a more cohesive look.
3. Women Pyjama Nightwear Long Sleeve Cotton Sleepwear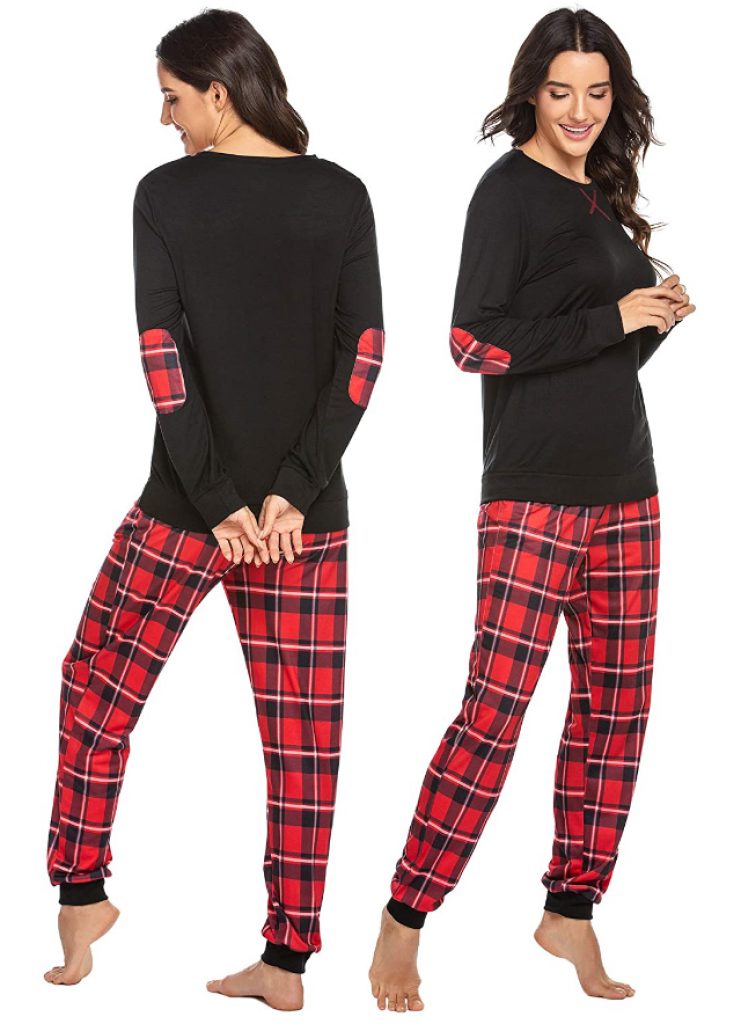 This pyjama set could be considered as slightly more basic than our other two recommendations.
Don't be fooled though, this set gives all the Christmas vibes you could ever need. The red for starters is super festive, not only that but the red parts are mainly tartan. As if the tartan couldn't get any better, these pyjamas use it on the bottoms but also as elbow pads too. All of this together just gives these PJs a particularly warm feel.
They are also a great option for those not wanting to spend loads on pyjamas they will only wear on Christmas, as these PJs could be worn all winter long.
Best Personalised Christmas Pyjamas
---
1. Personalised Sleep Tight Santa is on his way Christmas Pyjamas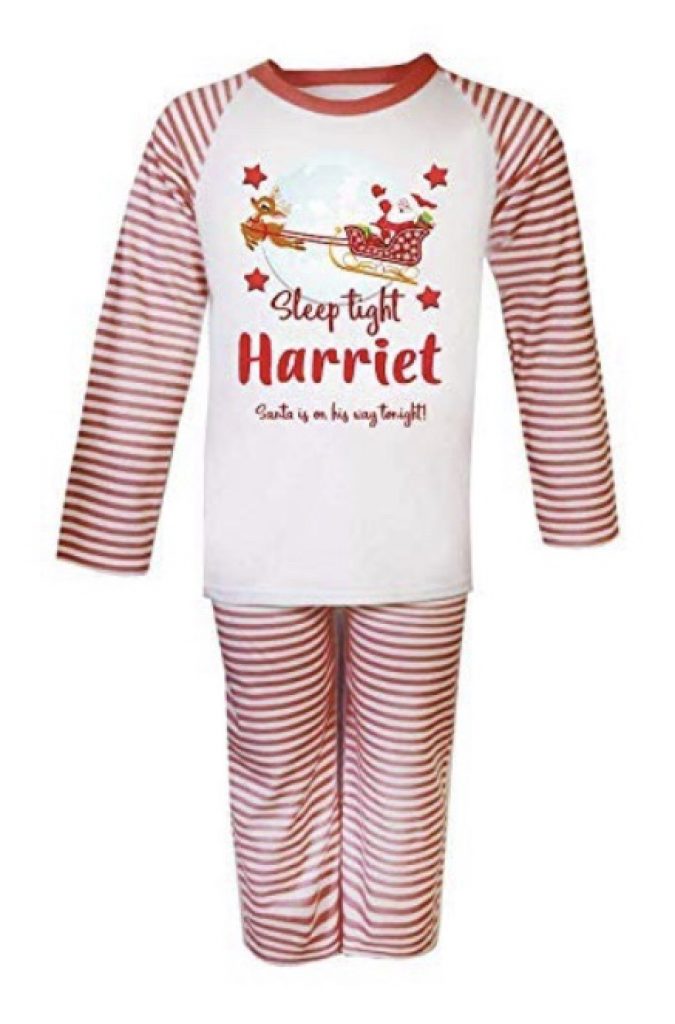 These super cute kids pyjamas, are the perfect way to personalise your children's Christmas.
They are for both boys and girls so you can actually buy them for all your kids, but personalised individually and all your kids can have a unique pair of PJs. The colours are also super traditional, but still keep the pyjamas very modern.
The great thing about these PJs is that your kids could wear them a few years in a row and they'll still feel special, because of the personalised element.
2. Second Ave Personalised Kids Children's Christmas Xmas Festive Sleigh PJ's Pyjamas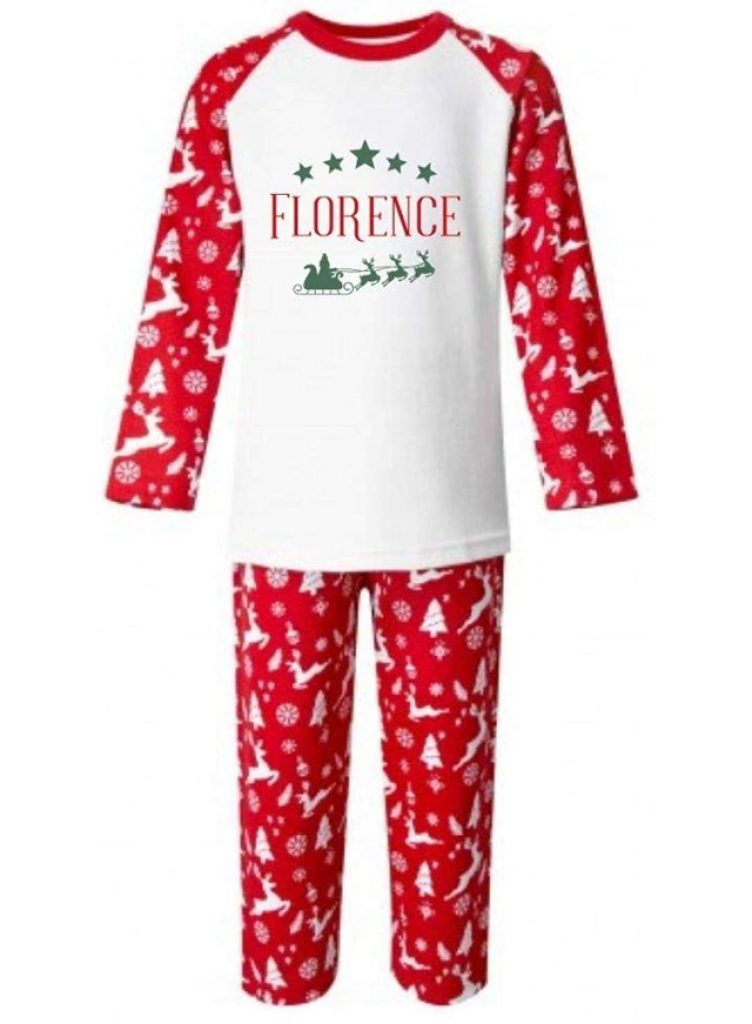 These kids PJs are an alternative for our top pick. This pair of pyjamas are a bit more simple and less traditional.
However they are definitely a colourful pair of pyjamas, which could be the Christmas aesthetic you and the family are hoping for.
3. FunkyShirt Personalised First Christmas Reindeer Baby Grow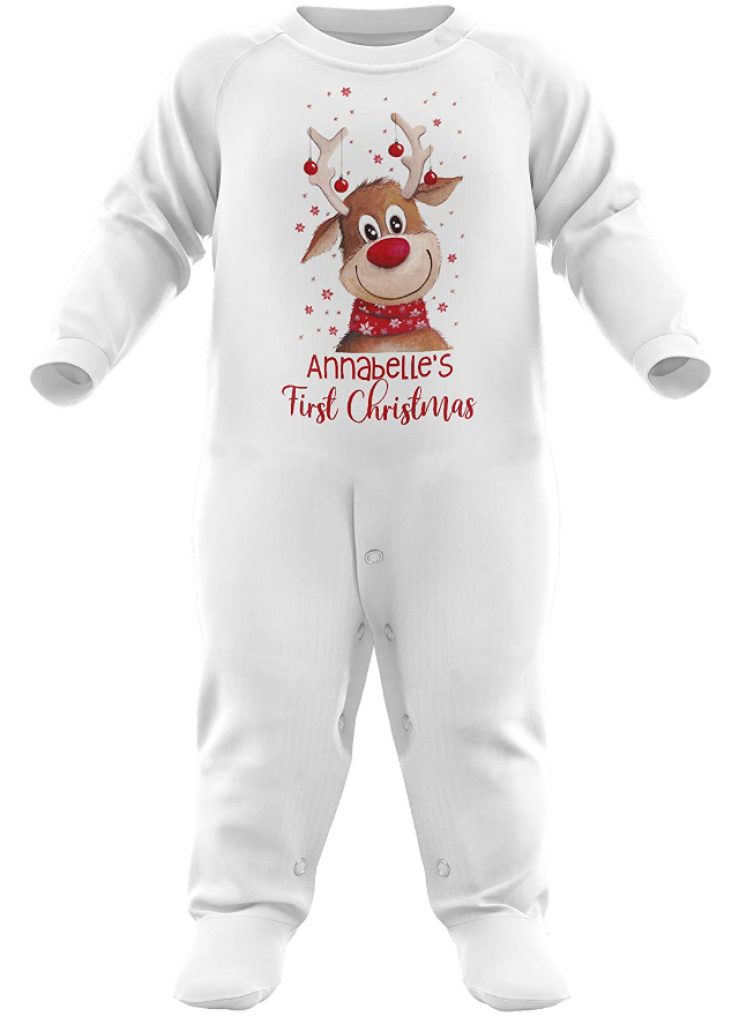 This adorable Christmas baby grow is definitely more niche as it's intended to celebrate a baby's first Christmas. However, we just couldn't leave this baby grow off of our top three list for best personalised Christmas pyjamas.
So, if you want to make your baby's first Christmas a little more special then this personalised baby grow is the perfect idea. This is also great as it can me kept as a memory of the Christmas for your child when they're all grown up.