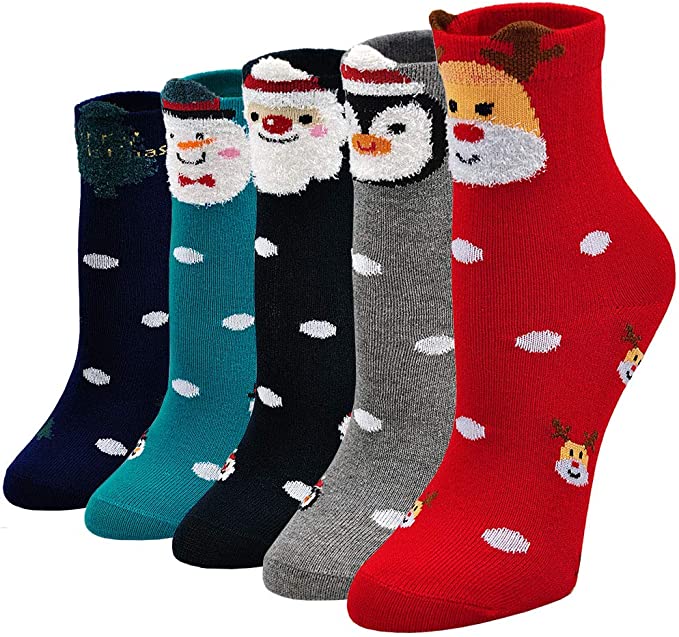 Whether your looking for stocking fillers or looking to try matching pyjamas this Christmas Eve, we've got your feet covered.
One thing we can all agree on is how excited we feel when we open socks on Christmas morning, especially as we get older. The only thing better is if they are Christmas themed socks. Check out our guide to our top picks for Christmas socks from Amazon for him, her, kids and even the whole family. From the best novelty themed socks with well-known characters to subtle fair-isle boot socks, we've made a list of our top picks.
Best Family Christmas Socks
Finding Christmas socks that the whole family likes, never mind agrees to wear is a challenge. Check out our top picks for socks the whole family will love.
1. VBIGER – Fluffy Christmas Bed Socks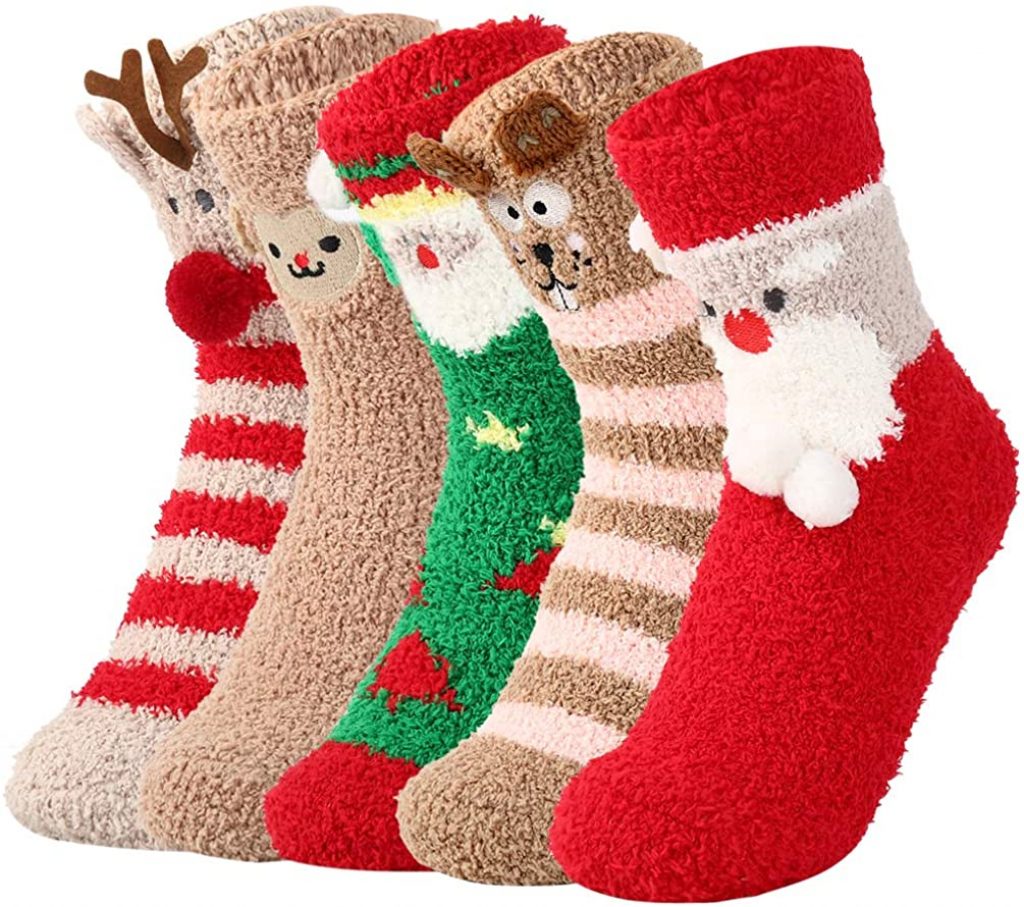 These fluffy Christmas bed socks are perfect for Christmas morning! This multipack features 5 different designs perfect for the whole family! These cute character socks will be loved by everyone and will allow everyone to pick their favourite.
Fluffy socks are even better for those chilly winter nights to help keep everyone's feet nice and toasty.
2. Sockstack – Pack of 6 Novelty Christmas Socks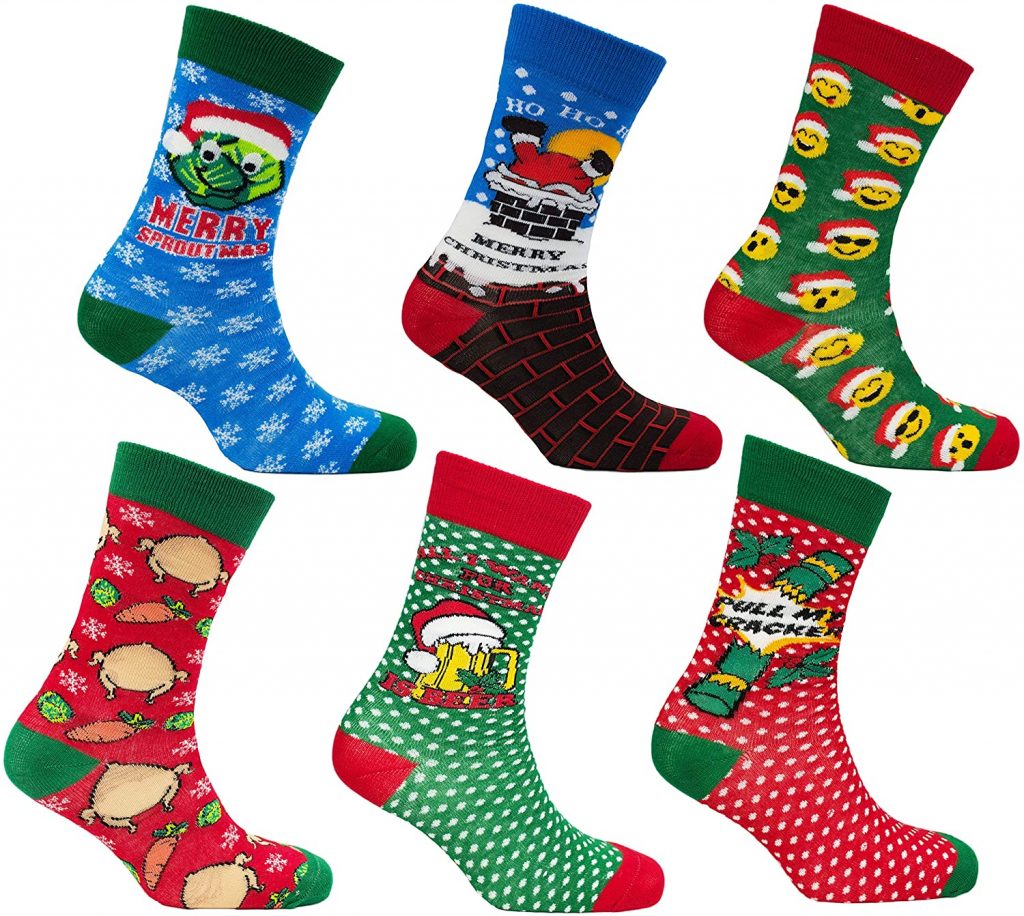 For the grown ups in the family, this multipack of 6 features unique and fun designs and is an ideal stocking filler.
With the variety of designs in this pack, everyone is sure to find a design that matches their personality. These designs feel less traditional than other festive socks while still showing off your Christmas spirit.
3. Ousuga – Christmas Fluffy Socks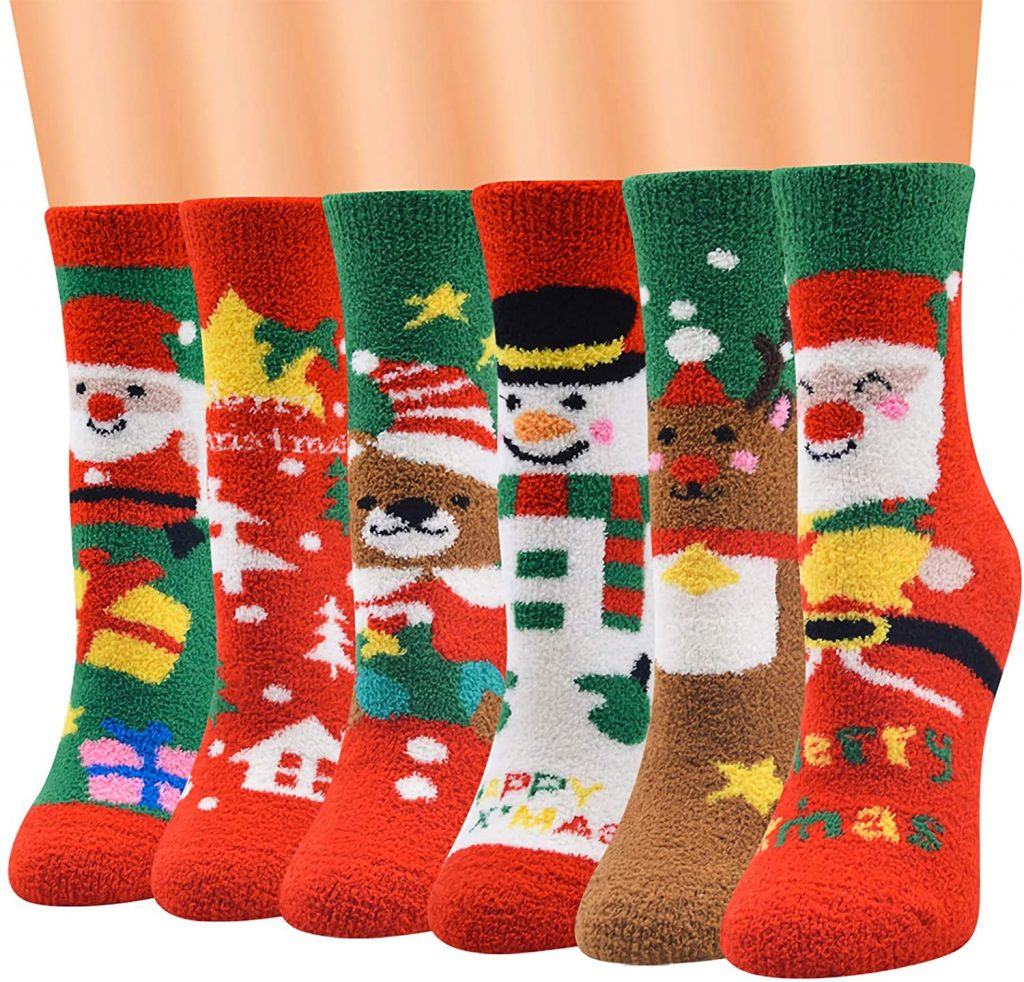 This multipack of fluffy Christmas socks are great if your looking to buy, matching socks for your family. With 6 designs, you'll have plenty of options for everyone to choose from. Pair these with matching pyjamas and you'll have your Christmas eve outfit sorted!
The fluffy material will be sure to keep your feet nice and warm on cold winter nights, while making falling asleep easier which might help over-excited little ones around the holidays.
Best Womens Christmas Socks
From patterned socks that scream Christmas to subtle fair-isle printed socks, we've made a list of our top picks for women's Christmas socks.
3.  Sock Snob Store – Ladies Festive Cotton Novelty Christmas Socks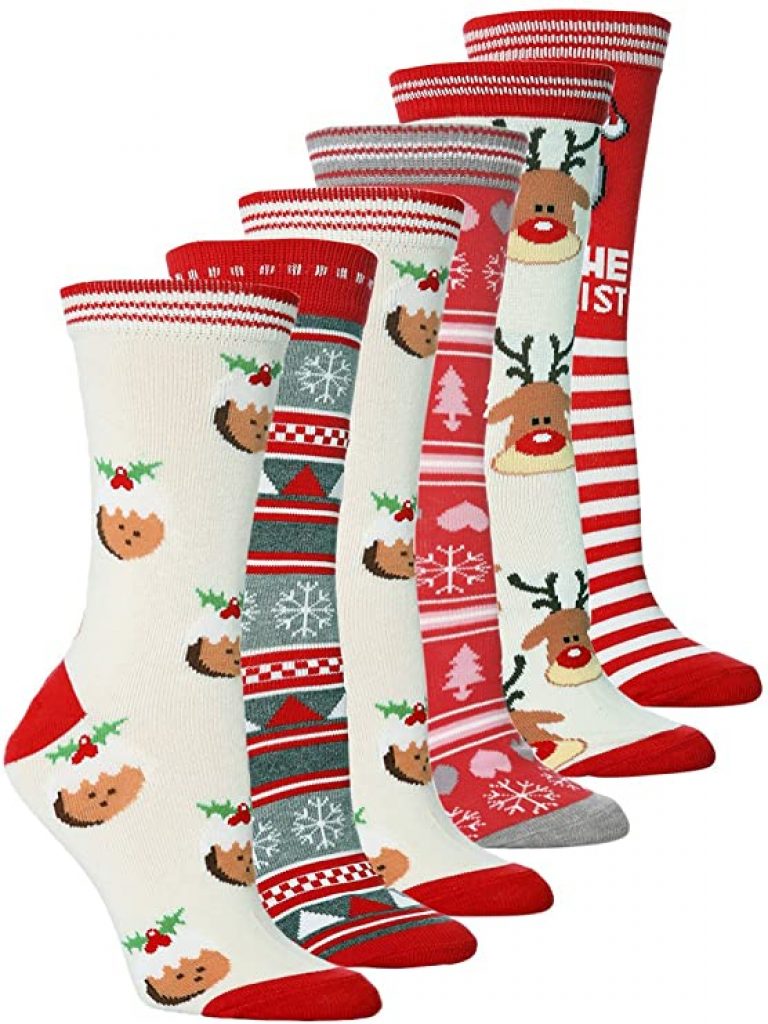 This multipack of Christmas socks come in two options, all have cute festive designs with Christmas puddings, reindeers and snowflakes. The soft cotton material will ensure you stay comfy while showing off your Christmas spirit. With the range of designs and colours, you'll be sure to find a pair for every outfit you have planned.
4. ZFSOCK – Women's Cotton Christmas Socks
If your looking for slightly subtler Christmas patterns, these socks might be better for you.
With the cute Christmas designs hidden in your shoes, no one will know about the festive snowman on your toes! These multipacks are available in 4 different options, and all have very festive prints.
5. Airabc – Thermal Knitted Winter Socks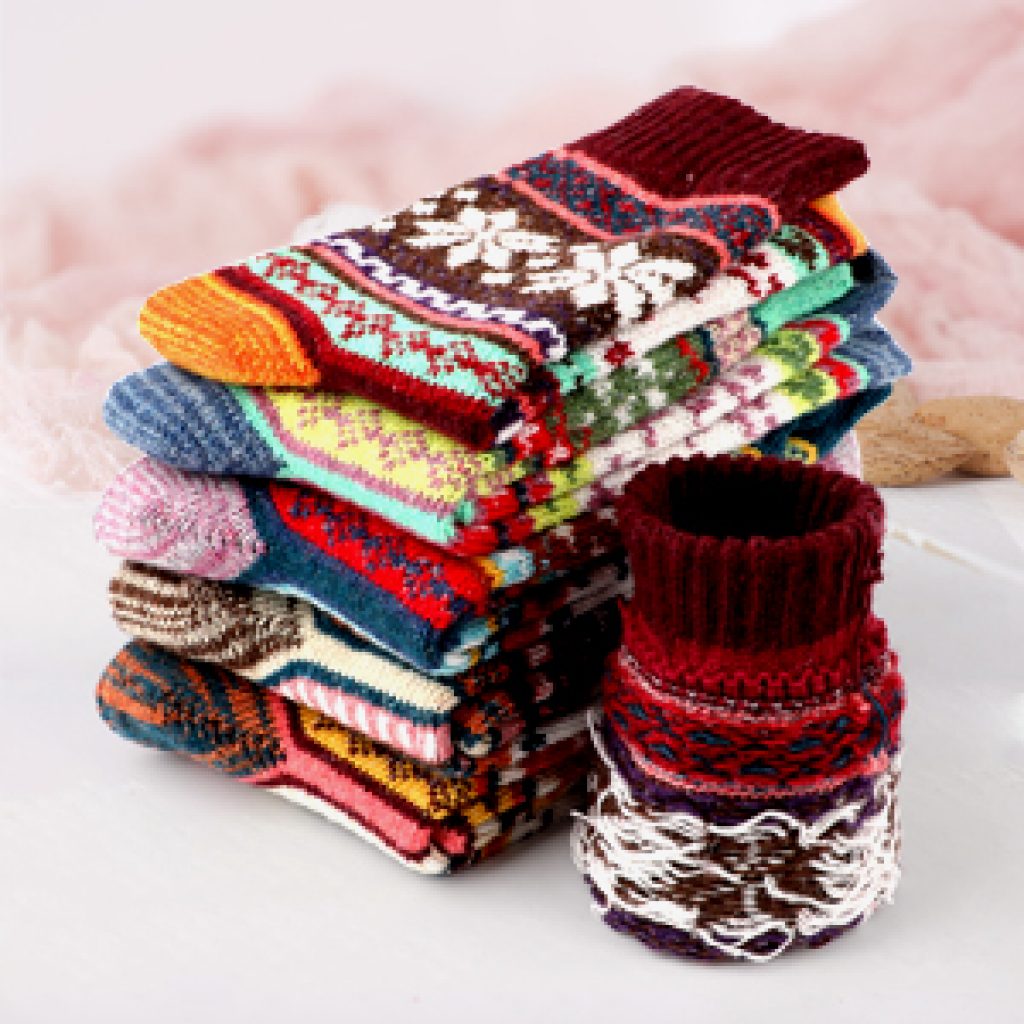 These warm knitted socks are perfect for the cold winter months. Not only will they keep your feet nice and toasty, but they'll look great paired with your favourite boots! Featuring a colourful fair isle print, you'll be able to wear these look after the holidays.
For those cold snow days, these knitted socks are ideal to be layered over cotton socks to help keep your feet warm.
Best Mens Christmas Socks
Looking to buy the special man in your life festive socks as a stocking filler? Our top picks have got you covered. From modern colourful designs to subtler festive patterns for everyday wear.
6. LZYMSZ – Colourful Men's Socks
This colourful multipack of Men's socks features bright festive patterns that are sure to show off your Christmas spirit. With the perfect mix of modern festive cats and more traditional Christmas designs, you'll be sure to find a design that fits your style!
Made with 80% cotton, they promise to be comfy and breathable for all day wear.
7. WB Socks – Christmas Socks Variety Pack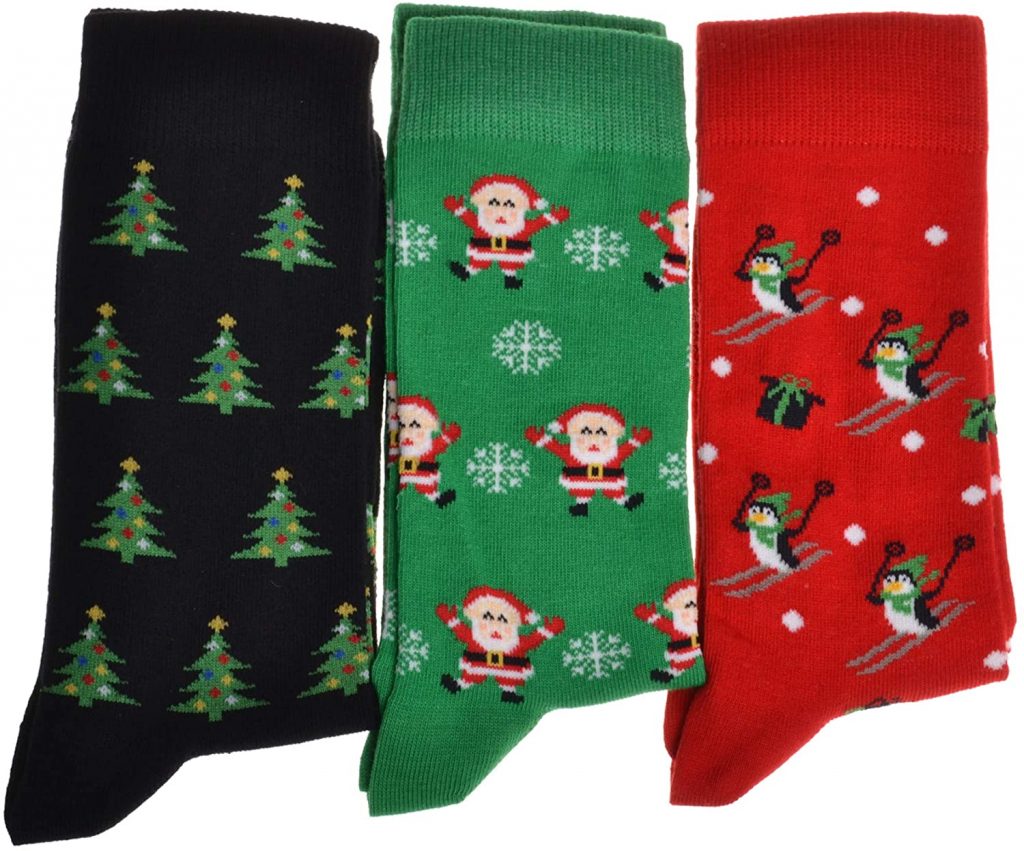 If your looking for tradition Christmas themed socks for the holidays, these will be the pair for you. With three festive designs featuring Santa, Christmas trees and skiing snowmen they'll be a great way to show off your love for the holidays!
8. RJM- Cotton Rich Christmas Socks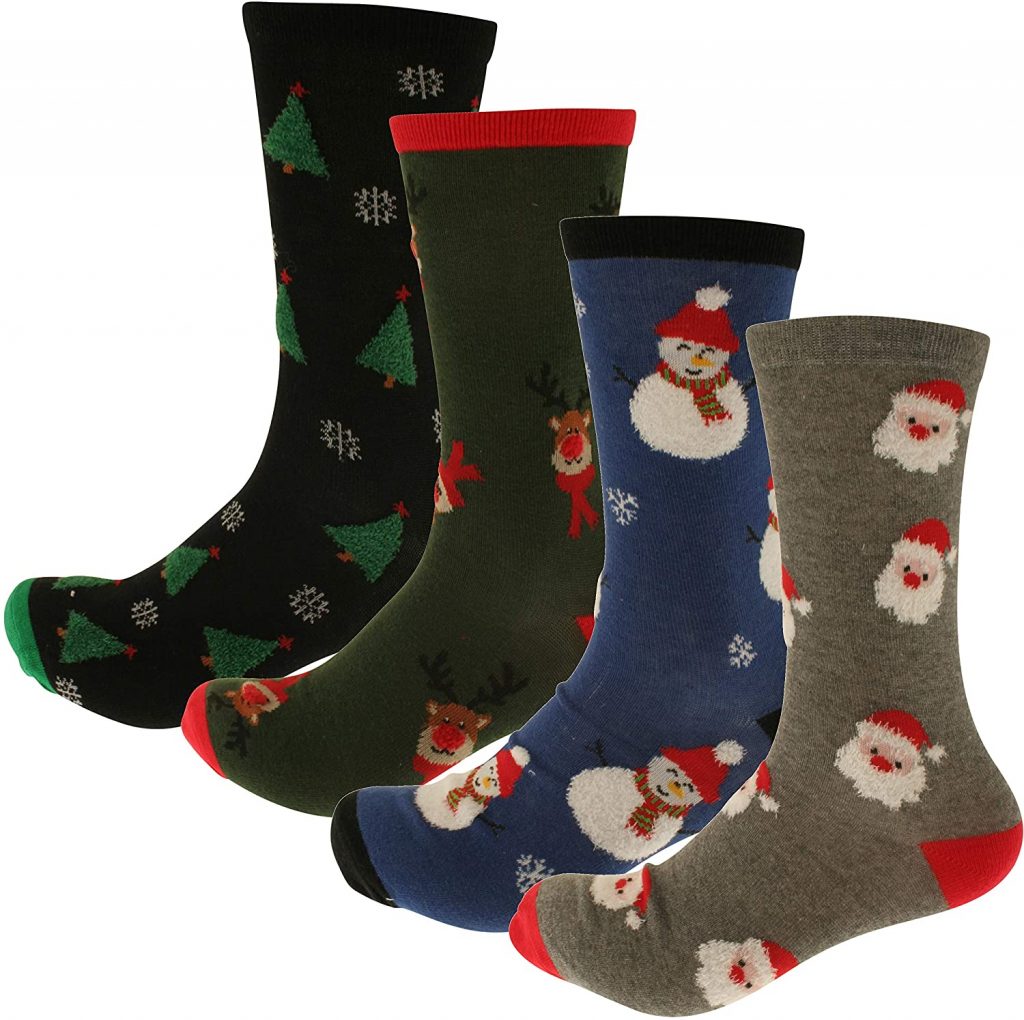 If your looking for something festive but not as bright, these socks are perfect for you. This multipack has 4 festive designs featuring more muted colours making them the perfect everyday choice during the festive period.
Best Childrens Christmas Socks
Although socks might not be the most exciting Christmas present for your little ones, they can be a fun way for them to show their Christmas spirit. From cute character socks, to knitted boot socks to keep little feet warm in the snow, we've got our top picks for you to shop.
9. PUTUO – Girls Novelty Animal Christmas Socks

These super cute Christmas socks are perfect to help your little one show off her Christmas spirit. Available in 2 options, each comes with 5 colourful characters. Your little one will love seeing the little faces peeking over their shoes.
10.  Metzuyan – Boys Novelty Christmas Socks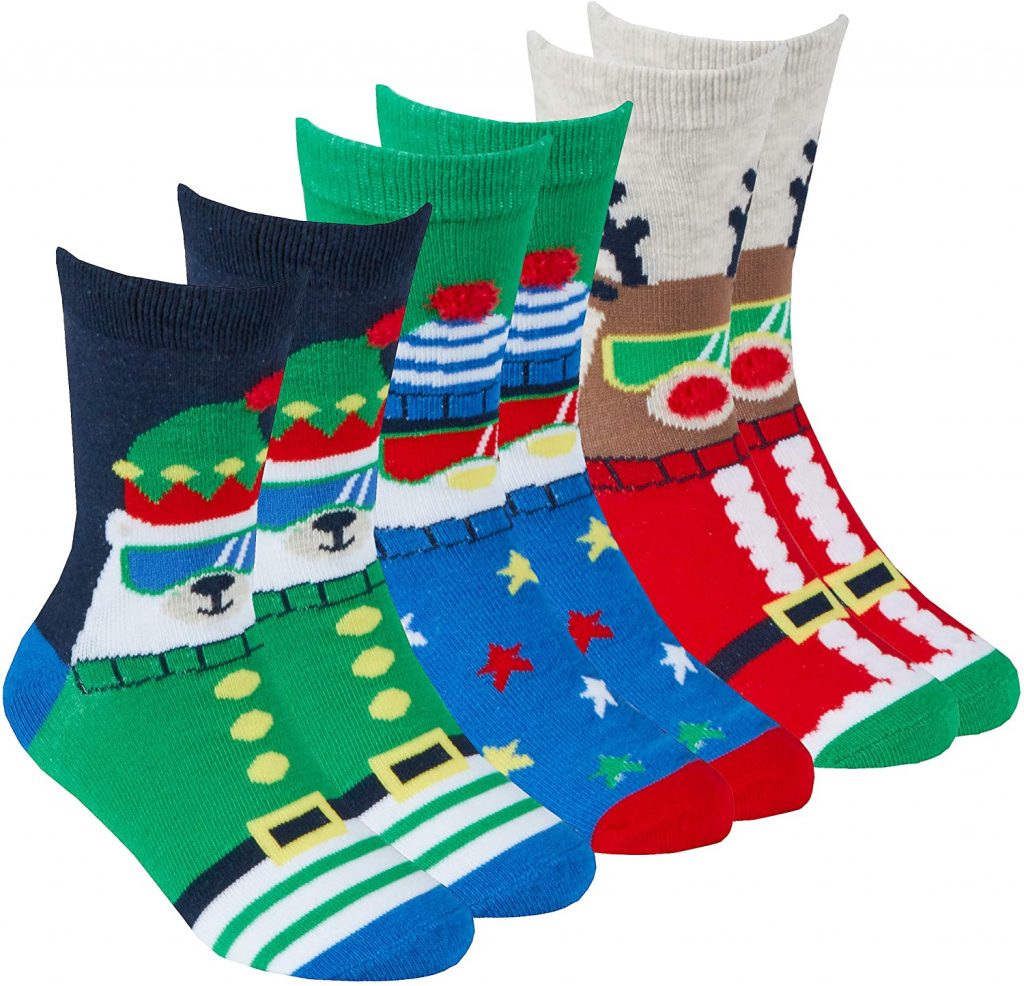 This multipack of novelty Christmas socks is available in 2 options. The cool Christmas characters kitting out in ski gear is perfect for your adventurous little ones. While the other option features all your little one's favourite Christmas characters in a more traditional design.
11. ProEtrade – Kids Wool Thermal Boot Socks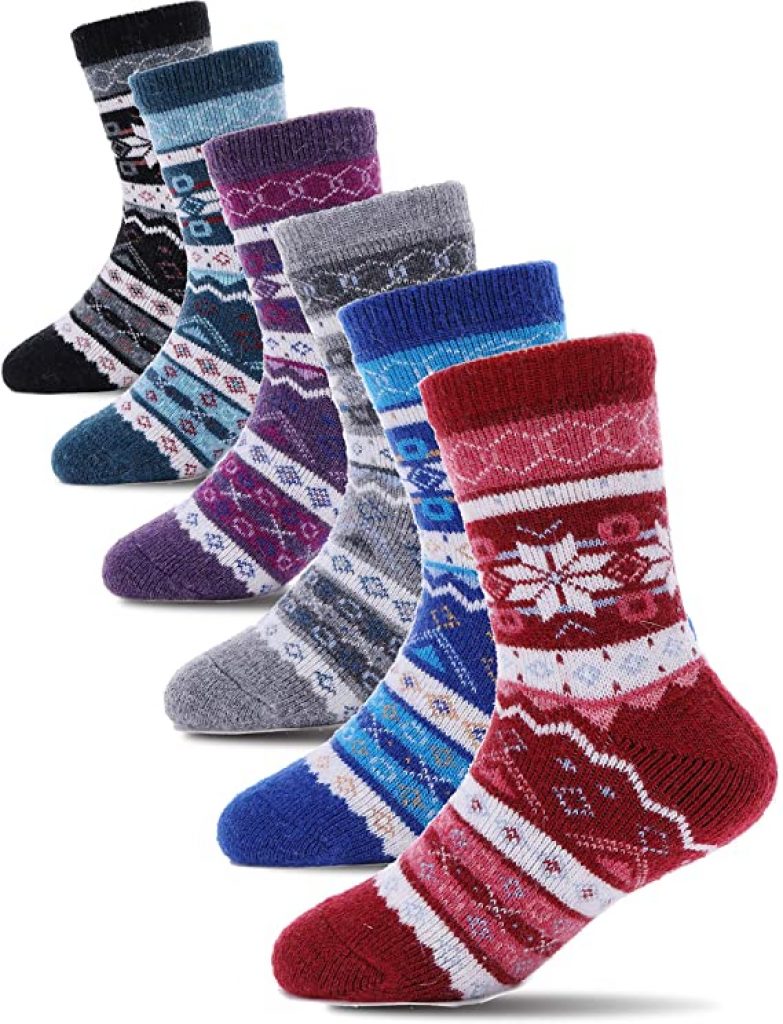 If your little one loves playing in the snow, these thermal boot socks are ideal to keep little toes nice and toasty. Available in a range of different patterns and colours, these multipacks are ideal for the cold weather.
This fair-isle print is especially great for the holidays while allowing your child to get the most wear out if them during the winter season.
Best Funny Christmas Socks
If Christmas patterned socks aren't festive enough for you, our top picks of funny, novelty socks might be for you. From socks that belong to a fancy dress costume to your favourite character socks, shop our top picks below.
12. Tobar- Elf Boot Socks
These novelty elf boot socks are perfect for when typical Christmas print socks just isn't enough.
This product also comes in a range of other designs including Santa Boots, Reindeer, Snowman and Christmas pudding so are ideal for your next Christmas party!
13. Sock Shop- Men's and Women's Grinch Cotton Socks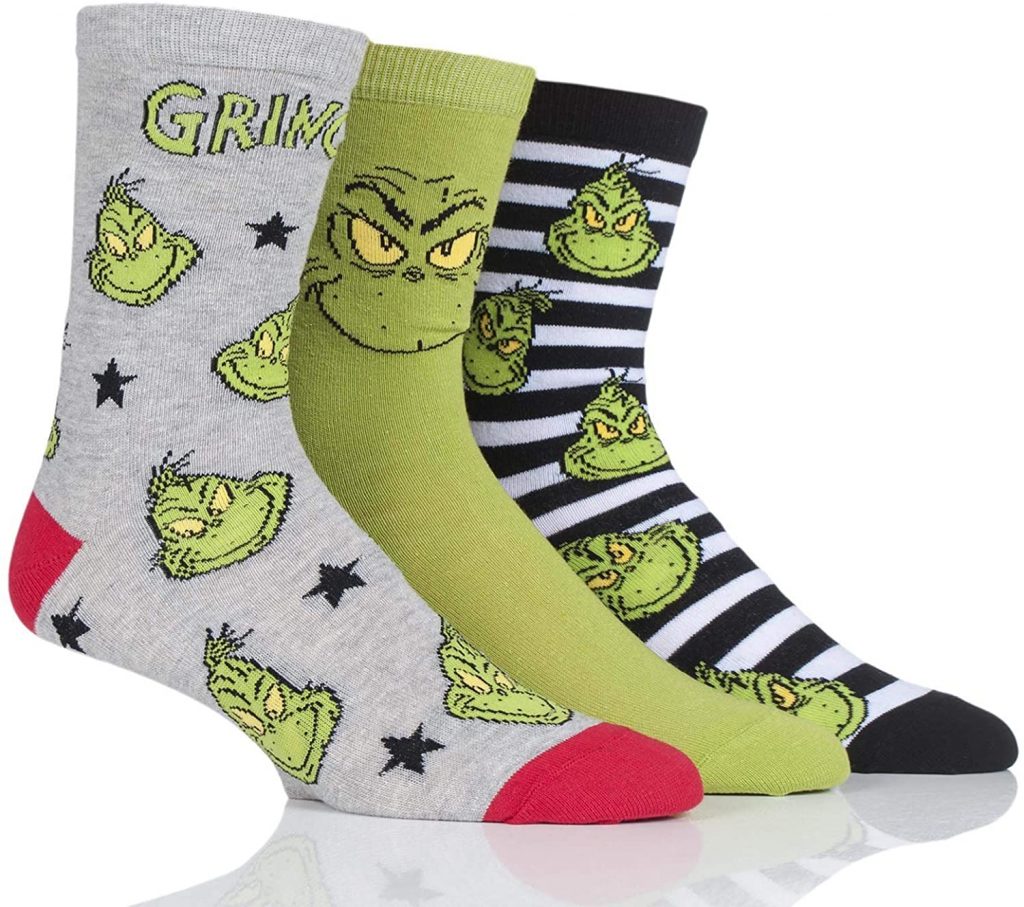 We all know a Grinch, especially when it comes to the holidays, so why not put a pack of Grinch socks in their Christmas stocking. This unisex pack of socks features 3 different Grinch designs and are sure to be a great gift for any Grinch fans.
14. Himozoo – Funny Novelty Socks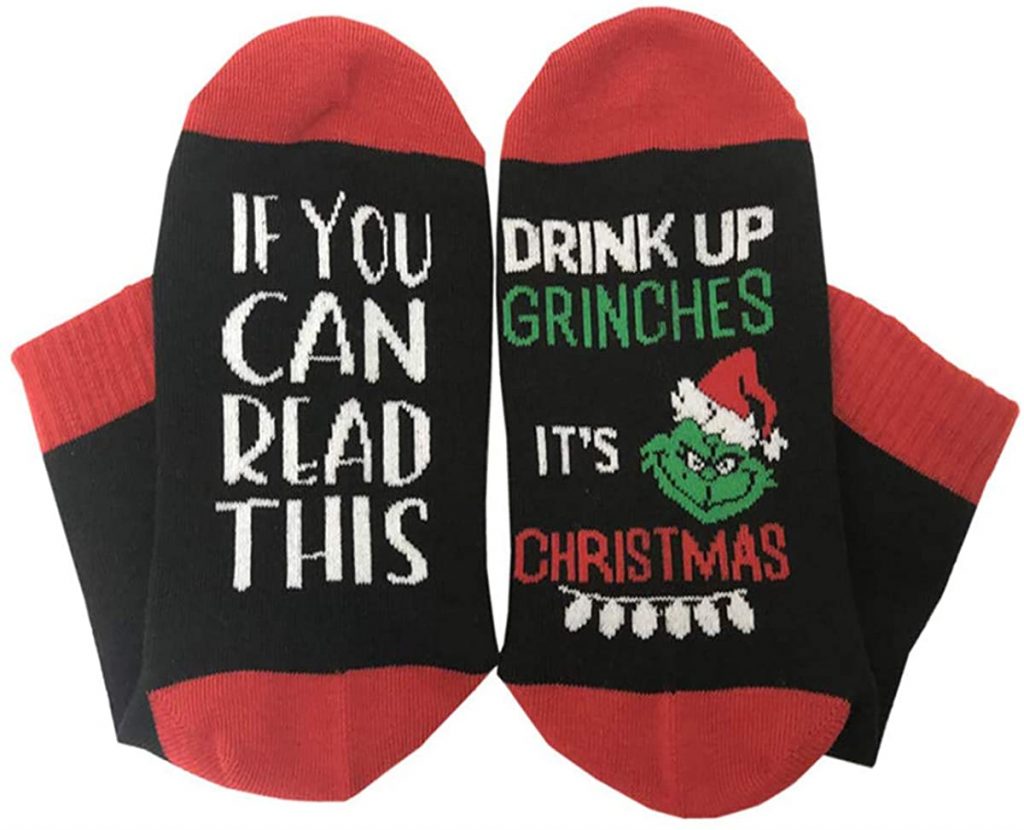 Give these socks as a gift and your guaranteed to make them smile, especially if they happen to be a fan of the Grinch.
Although available in a number of designs, we feel like this design will make the best stocking filler.